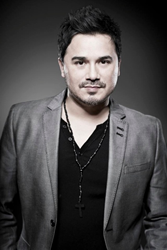 I pray He continues to keep me strong in what I've been put here to do.
Atlanta, GA (PRWEB) April 30, 2014
Actors, Models and Talent For Christ is a non-profit organization that desires to make good bolder in entertainment by launching actors, models, singers and dancers into the industry. Believing that Augusta offers promising talent, AMTC welcomes all entertainers to participate in the one-day only auditions.
The auditions are available on Monday, May 5, 2014 at 3 p.m. and 7 p.m. at the DoubleTree by Hilton Hotel Augusta, 2651 Perimeter Parkway, Augusta, GA, 30909. Auditions are open to singers, dancers, actors, models and comedians ages four and up.
The Augusta auditions will be hosted by AMTC Scout, John Montes. Currently, Montes sings with the Marcus & Joni Show on the Daystar Network and is a member of the group "Ten" from The Sing-Off. Montes began his career traveling with a band at age 12 and later became a worship pastor. As a member of Kirk Franklin's multi-platinum group, "God's Property," Montes has worked with performers like Justin Timberlake, Ashley Simpson and Frankie J. He speaks of his journey in entertainment, "I thank God for my training – for all the successes and trials – and I pray He continues to keep me strong in what I've been put here to do," Montes said.
Founded in 1982, AMTC is an organization operated by three generations of one family. The ministry coaches performers in both improving their gifts and reflecting Christ, specifically in the face of the media. AMTC offers training programs and a biannual six-day conference, SHINE, in Orlando, FL. The conference hosts 50 to 100 VIP agents, managers, casting directors and music industry professionals that come from cities around the world to teach, both recruit and offer advice to performers.
Actors, Models and Talent for Christ auditions are open to performers of all faiths and with good intentions. For more information or to register for this AMTC audition, please visit http://www.AMTCaudition.com or call 1-800-STAR-420.