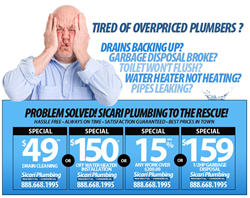 Sicari Plumbing, recognized as the leading Pasadena plumbing contractor for over 30 years.
Pasadena, CA (PRWEB) April 30, 2014
Sicari Plumbing, recognized as the leading Pasadena plumbing contractor for over 30 years has just announced that they are now offering exclusive sizzling summer discount prices on top of their already low, guaranteed flat rate prices. Pasadena plumbing customers have always loved the fact that when using Sicari Plumbing, they know up front exactly what their plumbing bill is going to be for all plumbing repairs and installations, without having to stress over hidden fees and expensive add-ons that typically pop up as a plumbing repair takes place with many other Pasadena plumbers.
For over 30 years, Sicari Plumbing has maintained a reputation as Pasadena's most reliable plumbing contractor. On-time service, quality craftsmanship, unmatched excellent, hassle free first-rate customer service, 24-hour service, and the fairest prices in town with a policy of billing by the job rather than by the hour has earned Sicari Plumbing the honor of being recognized as Pasadena's highest rated Plumbing service.
Sicari Plumbing services both residential and commercial customers allowing them the enjoyment of an extremely significant savings along with the complete satisfaction of knowing that when they call upon Sicari Plumbing they are going to get the best service imaginable.
Sicari Plumbing serves the San Gabriel Valley, Pasadena, San Fernando Valley, and Santa Clarita areas. Sicari Plumbing is the first choice of satisfied customers who are looking for the finest Pasadena plumber, Burbank plumber, Canoga Park plumber, Glendale plumber, North Hollywood plumber, Sherman Oaks, plumber, Saugus plumber, Tarzana plumber, Valencia plumber, or Woodland Hills plumber. The answer to plumbing problems is always close by when calling upon Sicari Plumbing at (888) 668-1995 or online at http://sicariplumbing.com/.