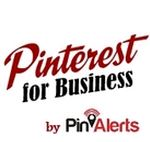 Regardless of the industry you are in—whether you are a food blogger or CEO of a Fortune 500 company—you should be integrating Pinterest into your marketing strategy.
(PRWEB) May 21, 2014
PinnableBusiness.com, a blog for Pinterest marketers, recently interviewed food blogger Kalyn of Kalyn's Kitchen. In the interview, she gave five tips to increase traffic from Pinterest.
Kalyn has over 90,000 followers on Pinterest. When she started, she got about 15,000 hits per day from Pinterest, but now that it is more crowded, it has dropped to about 10,000 hits per day.
Kalyn has been blogging since 2005 so she has a lot of content. Her blog features low carb and diet-friendly recipes. Her blog is a result of her efforts to lose weight. Always known as a good cook, she realized she had to change how she cooked to fit her new diet. She lost 40 lbs by adapting her recipes to the South Beach diet. After many people requested her recipes, she found that a blog was the easiest way to share them with others. Today, Pinterest is a big part of her marketing strategy as it drives significant traffic to her blog.
One of the tips that she shared include to monitor and respond to comments. "Make sure that your settings include getting emails from Pinterest when there is a new comment on one of your pins," she said. Kalyn makes a point to respond to comments because it makes her pins more visible and that leads to more repins. She also monitors her comments so she can delete spammy or junk comments.
Another tip is to use hashtags in pin descriptions. Although they aren't clickable, they still help drive targeted traffic. She uses the same hashtags on Twitter. The hashtags are based on the categories on her website.
As an influencer, Kalyn has an advantage in that she is invited to be part of several group boards. She pins to 30 to 40 high quality group boards with other food bloggers. This extends her exposure to more people who are interested in recipes.
Kalyn shares her recipes on Facebook and includes an image. She also adds a link to pin the recipe to Pinterest. Since over 70% of people access content from their phone, adding a link makes it easier for them to pin right from their phone.
To read all of Kalyn's tips, visit http://pinnablebusiness.com/pinterest-marketing-tips-food-blogger-kalyns-kitchen/.