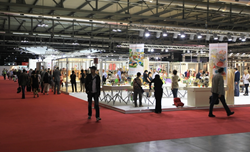 VMS has discovered great value in its first year of PACE membership, and many members of the company look forward to expanding their participation with this important trade association in the future.
Hollywood, FL (PRWEB) May 06, 2014
Viking Magazine Service (VMS) recently distinguished itself among many reputable consumer engagement market participants at the PACE (the Professional Association for Customer Engagement) National Convention in Hollywood, Florida. Recognized as a Platinum PACE Member, VMS took full advantage of the many opportunities to connect with new and established vendors, compliance experts, and call center contemporaries.
In their ongoing effort to stay informed and ahead of the regulatory landscape, Viking Magazine Service was represented at the "2013 Regulatory Year in Review and the Forecast for 2014" presented by PACE's General Counsel and other industry compliance experts. Not only did this session provide an invaluable overview of the most up-to-date state and federal regulatory topics, but it also bolstered a multitude of compliance measures implemented by Viking Magazine Service over the past calendar year.
VMS' senior leadership also participated in an insightful and engaging presentation led by past and current Federal Trade Commission attorneys on the importance of secure data collection practices and consumer privacy. As a result of the company's unwavering commitment to protecting consumer data, VMS confidently provides best-in-class customer service and peace of mind for their customers.
About Viking Magazine Service: VMS has earned an excellent reputation with both publishers and consumers for reliability, dependability, and integrity for over 20 years. Their mission is to provide consumers and their families with the highest quality magazine service at the most affordable price, and to assist magazine publishers in maximizing their reach to consumers.
To learn more about Viking Magazine Service please contact their customer service line at 800-339-9492 or visit them online at http://www.vikingmagazine.com.