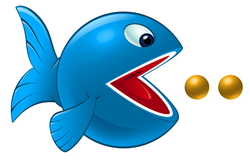 The Catch a Whacker scheme is due for launch on the 16th June which coincides with the traditional opening day of the fishing season.
Bolton, Lancashire (PRWEB) April 30, 2014
Carp Baits Online Limited are based in Bolton, Lancashire.
The Sticky Baits stockists were founded by co-directors Dan Robinson and Andy Roberts in 2009.
The fishing tackle and bait retailers specialise in baits for carp but also sell tackle and bait for other species.
Dan was asked, "What makes your tackle shop different?"
The Nutrabaits stockist replied, "We aim to provide lots of choice, speedy service and good communication to our customers. We'd like very much to turn them all in to regulars."
The online retailer has a staff of three which includes Dan, Mike and Cameron and sells locally, nationally and even internationally.
"It took us by surprise the number of orders we started to receive from Europe and even further a field. I guess if it's your hobby and the product isn't available in your country then people will buy it from us," said Dan.
"The fishing bait and tackle market is very competitive so we are trying to be the very best at what we do as heavy discounting isn't an option," said the Rod Hutchinson stockist.
The Bolton firm already has a reward scheme in place which allows regular customers to benefit.
Currently the website offers £1 for every £10 spent and this will continue with the new scheme.
"The fishing industry is very price focused and we want to be different. Many of our suppliers stipulate that we can't discount their products. They spend thousands on advertising their brands, product development and testing so I can understand them getting angry when people discount heavily as it cheapens the brand and upsets responsible retailers," said Dan.
"We have been looking at ways of improving customer loyalty and our current rewards scheme works well. We would like more though and I'm sure our latest idea will be well received," added Mr. Robinson.
The Mainline Baits stockists have fairly unique branding which is very different to their competition.
The Carp Baits Online logo design features a cartoon style blue fish which is loosely based on a Pac Man computer game character.
The Rod Hutchinson stockists strapline is "Catch a whacker, whacker, whacker..." based on the sound the character made of "wakka, wakka, wakka".
"We've decide to name the scheme the Catch a Whacker 500 club. It's a bit long winded but we believe it will be a success," said Dan.
The scheme will be promoted through social media, email newsletters and with a limited amount of invitations.
The invites will be sent to Carp Baits top 500 customers first offering free membership, an introductory offer and then a permanent unique code will be given to allow the customer 10% off for life.
The maximum number of members will be 500 and membership will only be reviewed if a member orders less than three times a year.
"We aren't discounting a particular brand with what we are planning so our suppliers should remain happy but this gives us the opportunity to increase loyalty and help us compete with larger bait retailers," explained Dan.
The Catch a Whacker scheme is due for launch on the 16th of June which coincides with the traditional opening day of the fishing season.