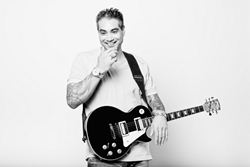 Fort Lauderdale, FL (PRWEB) May 01, 2014
Dyce Kimura classifies himself as an avid music lover with a passion for the guitar. Years ago, he transitioned from guitar student to guitar teacher, transforming his passion into a business opportunity. In a very short time, Dyce Kimura's list of guitar students grew. "I wasn't sure how fast people would be interested in signing up for my Fort Lauderdale guitar lessons," says Dyce Kimura, "You need to build your credibility up as a skilled mentor. But, before long, I had many eager learners."
He has had a lot of success as a Fort Lauderdale guitar teacher. He credits part of his success to his love for meeting new people and helping them achieve their musical goals. "It is not uncommon for someone I'm teaching to refer others to me; I think it is about my passion and energy. This is one of the reasons I decided to start offering special promotions," says Dyce Kimura. The special promotion for May is a complimentary music lesson for current and former students who recommend Dyce Kimura to a new student who takes a lesson.
In music, it is common to use social networks to find recommendations and to locate skillful teachers. Finding a Fort Lauderdale guitar teacher who is talented, patient, and readily available can be difficult for many new students. It is one of the reasons Dyce Kimura turned to technology, "It is always helpful to hear someone in person, but whether for lack of time or transportation, it can be difficult to physically attend a lesson." Thanks to computers, he now successfully delivers Skype guitar lessons to students.
Dyce Kimura says working as a Skype guitar teacher is a unique, rewarding experience. "There is something really new-world about teaching online. The quality and personal attention is there, but in a different way," he says. Teaching from a distance means he can teach students that live outside his local area. Because he hopes former and current students will recommend others to him, he values the adaptive nature of communication technology. His flexibility and willingness to recruit new clients through the recommendation of current and former students is why many in the Fort Lauderdale community value him as a Skype guitar teacher.
He has moved into a realm that a younger generation of guitar students is familiar and comfortable with. Despite the lack of physical presence for many students, Dyce Kimura continues to deliver excellent guitar lessons and values the efforts of his students. That is why he will reward students this May with this special promotion.
Dyce Kimura is a resident and guitar teacher in the Fort Lauderdale area. He performs lessons in person as well as Skype guitar lessons.