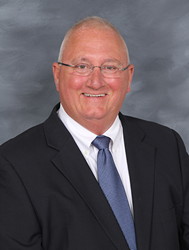 Van Wert, Ohio (PRWEB) May 01, 2014
Braun Industries is proud to announce that Jim Ham has joined their team as the new Regional Sales Manager for Region 2. Braun is a custom ambulance manufacturer located in Van Wert, Ohio. They have been producing first-class emergency vehicles for over 40 years. Jim will be responsible for overseeing sales in the central United States. Braun is excited about the experience and knowledge he brings to the table, and is looking forward to his positive impact on the company.
Jim began his new position with Braun in early March 2014. Prior to starting, he spent over 35 years at Navistar International Corporation. There, he worked in product development, marketing, and sales. Jim also helped foster and maintain a beneficial vendor relationship between Navistar and Braun. His experience with the medium and heavy duty truck manufacturer educated him on vehicles in EMS industry, and built a solid foundation for his love of Braun ambulance models.
Jim's main responsibility at Braun is to provide management oversight and ongoing support to Braun dealers in Region 2. This includes maintaining a high level of product knowledge, and delivering quality customer service to dealer representatives and end-users. Since joining the Braun family, he has dedicated himself to learning Braun's ambulance models inside and out, and feels his superior product understanding helps him in every facet of his position. He serves as an educated resource dealers can lean on to un-layer bid specifications, finalize designs considerations, facilitate customer service issues, and more.
"When I accepted the position as Braun Industries' Regional Sales Manager, I was honored," says Jim Ham. "Braun has a strong reputation in the industry of commitment to their brand, their employees, and their customers. I am dedicated one hundred percent to maintaining that reputation of quality, and want to help our dealers succeed. I take my job as Regional Sales Manager very seriously, and want to ensure that I am a resource our dealers and customers can count on. By providing thoughtful leadership to my region, I am confident the Braun brand will continue to thrive and serve our end customers well."
Aside from his previous work in the Fire/Rescue Industry with Navistar, Jim has personal experience in firefighting and damage control training from his time in the Navy. Married for forty-two years, Jim has two children and three grandchildren. He enjoys watching his grandchildren grow up, and participates in their school activities and sporting events. He also loves to cook, bowl, fish, and play golf in his personal time.
The same feeling of family well-being that Jim enjoys in his personal life has extended into his new position at Braun. He says the relationships that Braun has developed with their customers and employees is "absolutely incredible." From the initial greeting at the front door, to the production staff in the factory, to the members of the sales team, it's a professional atmosphere with a familiar sense of belonging.
Jim appreciates the time spent working with customers onsite and in the plant. His process of "Listen-Understand-Deliver" served him well at Navistar, and he looks forward to employing it at Braun to build long-lasting relationships with customers. While onboard, he has enjoyed time spent in the plant learning the production process. He looks forward to creating new memories with the company, and making a positive impact on Braun and their customers.
Braun Vice President of Sales & Marketing, Chad Brown, has the following to say about Jim joining the sales team: "We are extremely excited to bring on Jim Ham as the new Regional Sales Manager for Region 2! Jim's extensive background in sales and sales management over the past 30 plus years is a huge asset to our already strong sales team. Jim's industry experience will help our dealers immensely, and we are looking forward to supporting him in this new leadership role."
If you'd like more information about Jim Ham, or to schedule an interview with Chad Brown, please call Chad at 419-232-7054 or email ChadB(at)BraunAmbulances(dot)com.