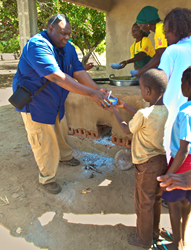 Maputo Province, Mozambique (PRWEB) May 01, 2014
A representative from the U.S. Department of Agriculture paid a two-day visit to the Planet Aid Food for Education program in Mozambique.
Now in its second year of activity, Food for Education improves the nutrition and learning outcomes of primary school children in the Maputo Province. The program is feeding 64,917 students daily, and all 243 participating schools have newly built kitchens and access to clean water sources. Strengthening education by training primary school teachers is also a key part of the program. The Teacher Training Colleges, which are run by local FFE implementing partner, ADPP Mozambique, have graduated 1,038 new teachers, and an additional 1,270 student teachers are currently enrolled.
USDA Senior Analyst Wentzel Mitchell toured one of the Teacher Training Colleges and four primary schools, getting a firsthand look at the progress that has been made since the inception of the program. He met with members of the schools' Water and School Feeding Committees, learned about the Corn Soy Blend used to feed the children, and visited school gardens, one of the program's key pedagogical tools that benefits over 10,000 students in the region.
More than 34 million meals will be delivered to children during the program's 3.5-year duration, and overall one million students, teachers, parents, and community members in all ten provinces of Mozambique will benefit from Food for Education's reach.
Planet Aid is a nonprofit organization whose mission is to inform, mobilize, and inspire individuals and communities to work together to bring about worldwide environmental and social progress. It is incorporated under the laws of Massachusetts and recognized as a tax-exempt charity under IRS code 501(c)(3).