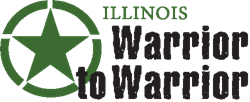 Volunteer Veteran - I volunteer to give back to my brothers and sisters in uniform and Warrior to Warrior gives me the opportunity to directly interact with soldiers.
Illinois (PRWEB) May 20, 2014
For so many, transition is a challenge. The numbers are staggering for our brave men and women who serve their country when it comes to unemployment, suicide, divorce, homelessness and many more issues. Coming home should be the easiest part of military service. W2W offers front line support for these service members while providing resources to help aid in their civilian transition.
Launched in conjunction with the Illinois National Guard, W2W assigns volunteers to Army National Guard units to provide outside the chain-of-command information and referral resources for military service members and their families.
With over 40 trained volunteer Veterans serving throughout the state, W2W provides services to hundreds of military service members each year. Volunteer Veterans help service members find employment, access health related and education benefits, and receive financial and legal assistance. In addition to providing referrals and resources, volunteer Veterans receive training that help them recognize and provide assistance to their fellow military service members so that they can help them through whatever is standing in their way.
The following example highlights one way a Volunteer Veteran can be helpful in a time of need. A spouse of an active service member currently on deployment reached out to a Volunteer Veteran when a pipe burst in her basement. To prevent the basement from flooding, she turned off the water, but went over a month without any water because her husband was overseas, she did not know how to fix the pipe, and could not afford to pay for repairs. Finally, she called one of our volunteers. After reaching out to several resources within the community, the Volunteer Veteran found a contact to repair the pipe.
If you are a Veteran and would like to help your fellow brothers and sisters please call us at 1(877)938-8403 or visit us at http://www.ilwarriortowarrior.org/volunteer.
Health & Disability Advocates (HDA) http://www.hdadvocates.org/ is a national nonprofit organization based in Chicago, Illinois that is a leader in high-impact public policy, technical assistance and training, focusing on building capacity and changing systems to help programs and services work smarter and better. HDA has a 20 year history of working with vulnerable populations both in Illinois and throughout the nation.
In 2008, recognizing the Illinois National Guard was experiencing their largest deployment since WWII; HDA researched the areas of greatest needs for future Veterans in Illinois. Today, an important part of HDA's work is the active, leadership role we play in creating information, distributing resources and building the capacity of communities and providers throughout Illinois to better meet the needs of Veterans, military service members, their families, and families of the fallen. Our programs improve health care access, educate providers about the unique needs of military service members and their families, and provide training and resources for military service members including finding and retaining employment. In short, HDA serves as the umbrella organization for several initiatives aimed at creating a blended social support network of civilian and military resource providers for Veterans and military families.
Warrior to Warrior (W2W) Illinois Warrior to Warrior is a joint program of national nonprofit Health & Disability Advocates and the Illinois National Guard. Funded in part by McCormick Foundation, a proud member of Illinois Joining Forces.