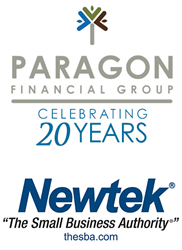 Ft. Lauderdale, FL (PRWEB) May 01, 2014
Paragon Financial Group, Inc. ("Paragon Financial"), a factoring company providing invoice factoring, credit protection and purchase order financing, announced today that it has partnered with Newtek Business Services, Inc. (NASDAQ: NEWT), The Small Business Authority®. Through this partnership, Paragon Financial will offer several of Newtek's products and services to its national multi-industry client base.
Specifically, Paragon Financial's clients will now have access to several of Newtek's financial products and business services including commercial business loans, billing, commercial real estate, web-based payroll, business cash advance, cloud computing, web hosting, data storage, merchant processing, web services, remote deposit capture and insurance services. This partnership will also enable Paragon Financial's clients to consult with Newtek's business service specialists in each of the above-mentioned products and/or services, and gain assistance with choosing the best solution to suit their particular business needs.
Jon Anselma, President of Paragon Financial, said, "We are looking forward to our clients taking advantage of the numerous solutions that Newtek offers small to mid-size companies that complement Paragon's financing options."
Barry Sloane, Newtek's President and Chief Executive Officer said, "We are pleased that such an established Company as Paragon Financial, with over 20 years of operating history, has chosen to partner with Newtek to offer several of our financial products and business services to their diverse national client base. With the shared goal of assisting businesses with their growth and ultimate success, we believe our product offerings are a perfect complement to Paragon's existing menu of working capital solutions. In particular, Paragon's revolving financing facility offering combines well with our term-loan program for small businesses. We believe we can reduce the costs of outsourced solutions for Paragon's clients while simultaneously delivering state-of-the-art products and services combined with superior around-the-clock customer service. We look forward to assisting Paragon Financial with their mission of helping their clients' businesses grow and thrive."
About Paragon Financial Group, Inc.
For 20 years Paragon Financial Group has provided working capital solutions for growing companies throughout the U.S. We serve small to medium companies across a wide variety of industries through invoice factoring and purchase order financing up to $3 million per month in volume. Paragon is a leading source for accounts receivable factoring, government contract financing, funding companies with tax issues, payroll funding, purchase order financing, credit protection and AR management. For more information visit http://www.paragonfinancial.net.
About Newtek Business Services, Inc.
Newtek Business Services, Inc., The Small Business Authority®, is a direct distributor of a wide range of business services and financial products to the small- and medium-sized business market under the Newtek® brand. Since 1999, Newtek has helped small- and medium-sized business owners realize their potential by providing them with the essential tools needed to manage and grow their businesses and to compete effectively in today's marketplace. Newtek provides its services to over 100,000 business accounts and has positioned the Newtek® brand as a one-stop-shop provider of such business services. According to the U.S. Small Business Administration, there are over 27.5 million small businesses in the United States, which in total represent 99.7% of all employer firms.
The Small Business Authority® is a registered trade mark of Newtek Business Services, Inc., and neither are a part of or endorsed by the U.S. Small Business Administration.
Contacts:
Paragon Financial Group, Inc.
Chris Curtin, 800-897-5431, x 221
chris(at)paragonfinancial(dot)net
http://www.paragonfinancial.net
Newtek Business Services, Inc.
Simrita Singh, 212-356-9566
ssingh(at)thesba(dot)com
http://www.thesba.com