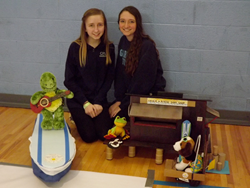 Everything I have learned in robotics, physics, math and computer science was implemented in the Robo-Challenge. We definitely brought our A-game! - Jackie Magaha
Owings Mills, MD (PRWEB) May 02, 2014
Alyssa and Jackie Magaha certainly know their way around a circuit board and the annual Johns Hopkins Robo-Challenge. At this year's competition on April 5, the Magahas won three first place awards in three of the five competition categories, extending Jackie's winning streak to five consecutive years and earning them a back-to-back team win in the robotic dance category. The robotics competition is sponsored by the JHU Laboratory for Computational Sensing and Robotics and is open to middle school and high school students across Maryland.
Their wins in the categories Mystery Maze, Search and Destroy Tumor Challenge and Dance encompassed their knowledge of STEM disciplines. They used computer science methods, mathematics—they incorporated recursive arithmetic to create algorithms for the Maze competition—robotics and physics. The sisters spent several months programming seven different robots for the competition as part of this independent study activity at Garrison Forest.
Their win in the "So You Think Your Robot Can Dance" category marked their second consecutive first place win in that category. Their entry comprised four robots to create a robotic turtle who "surfs" on a robotic surfboard to the Beach Boys' iconic "Surfin' USA." The surfboard alone required them to program and engineer three different robots into one.
Jackie, who has competed in the past five Robo-Challenges, won a first place in 2012 in the Innovative Use category for her Be-Bot robot, BEOPAD, which wrote letters with pen and paper though human selection on an iPad. That year, as an 8th grader, she also won the Dance category as an individual and the only female competing against all-male high school teams. Her first outing as 6th grader in the competition earned her an Honorable Mention. Every year since, Jackie has won a First Place in one of the five categories.
Their success in past competitions has inspired other girls to compete. Dad Dave Magaha, a computer engineer, noted that there were more girls competing in 2014 than in past years, an uptick attributed to the growing interest by girls overall in computer science and, in part, to Alyssa and Jackie's past successes in the Robo-Challenge.
Computer engineering, science and the arts are passions for both girls. They are veterans of the Garrison Forest Robotics teams, and in March, Jackie was one of two Garrison Forest sophomores named as a national runner-up for the 2014 National Center for Women & Information Technology (NCWIT) Award for Aspirations in Computing. Jackie, who takes AP Computer Science at GFS through Online School for Girls, was one of two student leaders for Garrison Forest's December 2013 "Hour of Code" program, a month-long, school-wide event to introduce people to computer coding. She collaborated with faculty, coached peers in programming activities, co-wrote a blog post on gender disparity in computer engineering and created a programming video to generate interest. Jackie will participate in a computer engineering research lab at Hopkins this summer and next fall as part of the GFS/Hopkins partnership Women in Science and Engineering (WISE). The WISE program is offered at Garrison Forest through the James Center (http://www.gfs.org/jamescenter).
Alyssa was an integral part of Garrison Forest's first-year Future City team to earn recognition at the Mid-Atlantic regional competition this past January. One of three 7th Grade team members, she helped to create "Grizzly Town," one of two GFS entries in the national middle school engineering/city planning competition. Her team earned the Student's Choice Award and Outstanding First Year Participant Award.