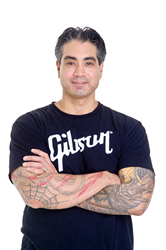 Fort Lauderdale, FL (PRWEB) May 06, 2014
Music is an important part of culture, and tastes tend to differ by country, state, and region. Every talented musician, past and present, had someone to influence and guide them as their careers progressed. For residents in the Hollywood area, esteemed guitarist Dyce Kimura wants to be that guide and teacher. With dozens of successful Fort Lauderdale guitar lessons under his belt, he is reaching out to a whole new generation of future guitar players.
For years, Dyce Kimura has helped aspiring local artists. "There are hundreds of talented people in the Fort Lauderdale, Hollywood area. Students come to me because they want to learn a new skill and parents want their children to experience the many benefits that accompany playing music," says Dyce Kimura.
This well known Fort Lauderdale guitar teacher takes pride in the talent and determination fostered in each of his students. Many of those he currently teaches have been referred by previous students or have found him through his solid reputation as a talented guitar teacher. Many of his students are local, as well. Offering Fort Lauderdale guitar lessons means most of his students are from the Fort Lauderdale area, but he is using his '50 percent off the first lesson' special promotion for students from the Hollywood area in order to further expand his business. His location is ideal for new students because he is situated in Hollywood next to the Hollywood turnpike, making it convenient for those headed to and from Miami. Easy access to a physical location and spreading the word about his services is critical for business flow.
In the music industry, reaching out and getting word around is important. As a talented musician who teaches guitar lessons regularly, the amount of students interested in signing up for guitar lessons depends on just how far he can reach. "Not everyone wants to learn guitar, so I have to reach out around the community and make myself available to those who are interested. Teaching is my business and that means accommodating and teaching as many students as I can," says Dyce Kimura. Technology has helped him expand his services. He offers Skype guitar lessons so students on a tight schedule or without reliable transportation can continue to receive his lessons and guidance. This also helps him stay in contact with students who may have moved out of the area but wish to continue reaching out for his support.
Dyce Kimura is a guitar instructor in the Hollywood, Fort Lauderdale area. He teaches theoretical and practical guitar in person and via Skype.