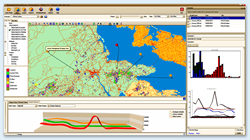 "A valuable and user-friendly tool for governments and private companies involved in planning, forest operations and management activities," says Doug Jones
New Brunswick, Canada (PRWEB) May 01, 2014
The release today of Remsoft's Tactical Planner (RTP) Version 2 will significantly change the way models (plans) for forest operations can be fine-tuned. For the users of Remsoft's Tactical Planner software, modeling and scheduling- once the sole responsibility of the forest management team- will be far more collaborative. In response to client feedback on the initial version of RTP, Remsoft has enhanced the end users' view and their ability to contribute changes to a model.
"All in all, RTPv2 will continue to be a valuable and user-friendly tool for governments and private companies involved in planning forest operations, and management activities," says Doug Jones, Remsoft's Vice President, Forestry.
RTPv2 provides two key upgrades to the original Tactical Planner software: enhanced mapping capabilities, and multi-period editing.
RTP v2's new mapping features allow users to better view and analyze the harvest schedule and associated indicators. Through new and improved visualization, classification and annotation options, forest managers are better able to validate the timing of harvest activities, and explore the impact of these activities over time on indicators such as target product volumes, revenues and harvest costs. This allows for improved communication and understanding of the company's overall objectives and encourages buy-in across the organization, closing the planning gap.
With the new multi-period editing interface, users can not only view all actions for a particular forest area, but can also edit these actions at any point in the time horizon. This allows users to make detailed edits to the schedule, which can then be incorporated into the planning model. In this way, forest managers are better able to articulate and validate needed changes to the schedule, and can immediately see the impact of these changes. This enables them to be more transparent and sustainable by seeing the big picture from the ground.
Remsoft's technology experts recognize there are many parties with a direct knowledge of and interest in forest management plans. Until now, too much of this valuable field experience and input has been lost in the planning process. RTPv2 will empower a far more diverse user base than have traditionally been involved in the planning process, capitalizing on the experience and knowledge of people like the operations planners and foresters; the mill managers utilizing the wood fibre; and others who had been limited to simply viewing the plans and schedules created by the planning division. "We were missing the firsthand experience and ideas of these other key players," explains Jones.
Says Doug Jones: "Forest management is a highly complex, risky and challenging task, given all the many variables that come into play—from fluctuating world currencies that impact export of our timber products to what kinds of wood products are popular with consumers at any given time. We listen carefully to our clients, so we understand and can effectively create the product or upgrade to meet their needs and wants. We're pleased to say that clients who have already had a look at the RTPv2 upgrade are telling us they like the new features."
About Remsoft
For over 20 years, Canadian company Remsoft, a leading provider of advanced analytics, modeling and spatial optimization solutions, has been helping 200+ clients on six continents sustainably manage the earth's natural resources. For more information, please visit http://www.remsoft.com.
Remsoft - Media Contact
Sandi MacKinnon
+1-506-450-1511
info(at)remsoft(dot)com