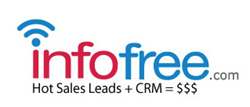 San Mateo, CA (PRWEB) May 02, 2014
Today small businesses and sales people need quality sales leads and mailing lists and in addition they need a simple CRM tool to manage those leads and increase their sales. Therefore, infofree.com just launched its new CRM called crm101. The reason it was named crm101 was for its simplicity; it's really meant for dummies.
Small businesses and sales people are complaining about the complexity of CRMs like Salesforce.com, SugarCRM, Zoho and others. The Infofree.com product team interviewed a lot of users and came up with a very simple but very powerful software called CRM101. It is so simple even a grandma can use it.
Infofree is also offering unlimited background checks, unlimited business credit reports along with unlimited sales leads to subscribers for only $59.95 a month. With all these offerings, subscribers can get top quality sales leads and can put them to work right away using CRM101. They can also check the credit report on businesses and also do a background check on potential new clients.
CRM101 has some unique simple features such as:

Easily categorize prospects as cold, warm and hot.
Track when the customers are added
Create and complete tasks
See prospects on a map
Organize appointments with the calendar feature
And manage customer contact information
For $59.95 a month a small business owner or sales person can get unlimited sales leads from over 250 databases. Manage their prospects, see their prospects on a map-even if they are sitting in a bar and use hundreds of features to make them productive.
For a free trial please go to http://www.infofree.com/free
For more information or for group licenses please call John Foster at 402-779-7360 or email him at john(dot)foster(at)infofree(dot)com