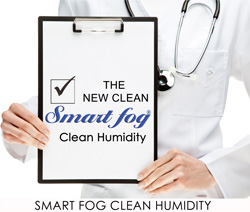 Smart Fog Generates Clean Humidity
Reno, NV (PRWEB) April 30, 2014
Smart Fog Inc announced this week, the release of a new commercial humidifier incorporating new hygienic and automation features.
Smart Fog's precise humidity automation enables users to control the targeted area with precision. Smart Fog commercial humidifiers do not waste energy. Energy and water are utilized accurately with zero waste.
Smart Fog systems are equipped with a CPLC controller which utilizes our propriety intelligent algorithms to identify the most efficient way to generate the required humidity for any given environment.
Humidity engineering starts by controlling climate factors. Smart Fog systems allow for fast response to changing conditions. These new automation features ensures that the humidity will not over or undershoot the target relative humidity.
Smart Fog commercial humidifiers can connect with existing building automation systems. This allows the user convenient access to the condition of the system and any alarms that the system detects.
Unlike temperature, humidity directly effects the comfort and safety of the employees. In an office environment, Smart Fog's unique technology can suppresses dust, allergies and dramatically reduce airborne pathogens. Smart Fog's non-fluctuating control effectively suppresses electrostatic discharge (ESD) and provides a safe and productive atmosphere.
About Smart Fog Inc
In business since 1980, Smart Fog Inc. is a recognized world leader in non-wetting commercial and industrial humidification solutions. Smart Fog's unique technology provides precise humidity enforcement, light speed uniform coverage and intelligent non-fluctuating humidity control. All Smart Fog products are engineered and manufactured in the USA. Smart Fog staffs a full range of engineers to advise commercial printers, in-plants, and manufacturers on humidity management and environmental control for operation efficiency and employee comfort.
For more information, visit: http://www.smartfog.com