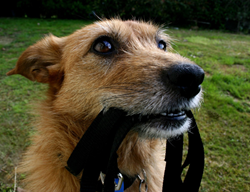 It is really wonderful so many tools have been introduced in the past few years that make walking larger dogs easier and safer for my sitters. - Joette White, Park Cities Pet Sitter
Dallas, TX (PRWEB) April 30, 2014
With more than 30 pet sitters in her employ and several hundred pet visits performed each day, Park Cities Pet Sitter President, Joette White, has a good reason to prioritize safety. Pet behavior cannot always be easily predicted, and Ms. White's sitters perform their work on-location at their client's homes, not allowing for supervision. It is for this reason that Park Cities Pet Sitter regularly reiterates their company's policies and procedures, to highlight the importance of sitter safety and well-being.
This month, Ms. White's entire staff went through Safety Training, with dog handling being one of the primary topics. One of Park Cities Pet Sitter's dog trainers, Agatha Weisz, led the dog handling portion of the training. Topics Ms. Weisz covered included: how to best approach a dog when meeting them; proper use of the myriad of collars, harnesses, head halters, and leashes that clients may use with their pets; how to handle an off-leash dog while walking another dog; what to do if the pet in your care gets off-leash accidentally; and the safest ways to administer medications when a pet is not cooperative.
Ms. White knows that she cannot predict every single scenario that her sitters may encounter, but with fifteen years of experience running Park Cities Pet Sitter, she knows what the most common safety issues her sitters face daily are. "Safely walking one or more large dogs at a time is probably one of my biggest safety concerns, and is something that has been a challenge for many of my sitters. It is really wonderful so many tools have been introduced in the past few years like dog head halters and front-connecting harnesses that make walking larger dogs easier and safer for my sitters. The down side to all of these new tools is that there are so many of them, that it is virtually impossible for every sitter to know how every single tool works, and the proper fit for that tool. But we reinforce with our sitters that asking for assistance from the client on how to use the tool when they first meet is appropriate and welcomed, and they can always call our office staff if they still need additional assistance on how to safely manage the walking of a client's dog(s)."
Not only was pet handling covered during the Park Cities Pet Sitter safety training, but other safety issues were addressed such as carrying a flashlight in your car for use in poorly lit areas, always parking your car in a well-lit area, and wearing proper shoes with tread on the bottom to avoid falling in slippery areas.
As her company continues to grow, Ms. White knows that regular safety training sessions will continue to be commonplace for her staff. "My pet sitters are like my family members, I worry about their health and well-being. I know I can't be there with them all of the time to watch over them, so the next best thing is to prepare them as best as I know how. Knowing we are regularly giving them such valuable information on how to best perform their jobs safely gives me peace of mind that they are as prepared as they possibly can be."
Park Cities Pet Sitter, Inc. has served the Dallas area seven days a week, 365 days a year since 1992. Pet sitting, daily dog walks, pet taxis, overnight sitting, pet supply shopping, litter box cleaning, and dog training are all part of the services PCPSI offers. Park Cities Pet Sitter is bonded and insured, and all sitters are employees--not independent contractors. A manager is on-call 24 hours a day to handle any emergencies. Additional information about Park Cities Pet Sitter can be found on their website at http://www.pcpsi.com.