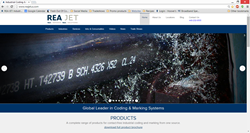 The launch of our new website is just the beginning of our 2014 marketing initiatives.
Walton Hills, OH (PRWEB) May 06, 2014
REA Elektronik Inc, a global leader in the developing, designing and manufacturing of industrial coding and marking systems, has just announced the launch of their new North American website. The new site was designed for current and prospective REA JET customers to easily access product information, research industry specific applications and learn more about the REA JET brand.
Through the new website http://www.reajetus.com, REA JET showcases their extensive range of flexible and reliable coding and marking equipment that consists of: large character ink jet printers (DOD), high resolution ink jet printers (HP print technology and piezo), small character ink jet printers (CIJ), laser systems (CO2, Fiber), spray mark systems and labeling systems.
At the forefront of the design was REA JET's commitment to providing world-class service to every single customer. The new website offers one-click, easy access to educational videos, technical documentation, blog posts and product brochures. Browsers can request more information in a simple 4-field quick contact form. Not only has REA JET designed a website to be compatible with all Internet browsers, it was also built to be responsive and suited for any mobile device.
"With our business growing exponentially over the last few years (revenue up 39.5% from 2012), it was very important for us to take the next steps in proving our commitment to our customers, vendors and even employees. Designing and developing a new, user-friendly website allows us to provide information to our customers in a faster, more efficient manner," said Ray Turchi, President, REA JET
"The launch of our new website is just the beginning of our 2014 marketing initiatives. This year REA JET is focused on expanding our technical proficiency, surpassing customer expectations in both sales and service and building our REA JET brand in North America." - Nicole Richie, Marketing Manager, REA JET