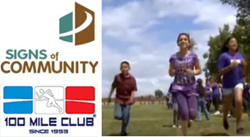 "If they can do this, imagine what they can do in life!"
Corona, CA (PRWEB) May 01, 2014
Did you run 100 miles last year? This is the one goal Kara Lubin, founder of 100 Mile Club, challenges everyone to do, especially her 2nd grade kids which was her founding passion when she started this successful nonprofit back in 1992. 100 Mile Club is now in over 200 schools with as many as 30,000+ kids striving to run over 100 miles every school year. An astounding percentage of them are very successful with many of them breaking records every year. This builds excitement and instills that feeling of success within every child.
"If they can do this, imagine what they can do in life!" Kara exclaims with great passion as she reflects on a very successful event called Run4Kids they recently held at Auburndale School in Corona, CA to give kids a place to charge ahead in their 100 mile goal. Many other people, almost 1500 total in attendance, were urged to attend to support the kids, boost awareness, and help raise money for student scholarships.
One attendee was Signs of Community (SOC), who quickly got involved because of their deep friendship with Kara and the love for her organization. Signs of Community is a nonprofit that helps city and school districts set up outdoor community announcement centers to better inform the community of events, updates, and alerts with the mission of greater community involvement. Not only did they help promote the event with press releases, an electronic scoreboard, and a giant full color LED billboard showing off other sponsors, but they formed their own running team of 10 people!
Ivan Perez, Program Director for SOC, proudly stated, "Kara Lubin and her team are such an inspiration to us. We didn't think twice about getting involved as a sponsor, even running! Her mission and our mission coincide so beautifully. There is so much strength in a community that is informed and involved. Together, we were able to get close to 1500 people out and engaged in running, exercising, laughing...it was simply an awesome day."
Ms Lubin added, "Signs of Community is one of the most amazing companies I've ever had the privilege to work with. What an incredible sight to not only see a beautiful display at an event like Run4Kids, but to be able to show our community how much we love them on a display like that was amazing. The software was seamless. I was able to input designs, logos, and wording for each of the signs, and it was delivered with ease. If I can do it, anyone can. I felt that the support provided through Signs of Community was professional, efficient, and incredibly friendly."
The 100 Mile Club is growing every day because of the hope and love they have for all kids. They truly believe that all kids are capable of achieving true personal success through setting and achieving short and long-term goals. If the 100 Mile Club can teach kids what success looks and feels like, they will seek that success in school, at home, and in life. In short, through participating in the 100 Mile Club, kids can learn that anything is possible.
Kara summed up, "We are making a huge dent in combating the effects of childhood inactivity. What we are doing is working! Our growth this year has been exponential, but we have so much more work to do. The event was a huge success this year. People enjoyed themselves, achieved their goals individually and with their teams, and everyone learned a little bit more about their community in the process."
100 Mile Club is a 501(c)(3) nonprofit organization. Learn more at http://www.100mileclub.com. Sign of Community is a 501(c)(3) nonprofit organization. Learn more at http://www.signsofcommunity.org.