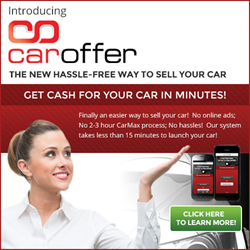 Once the consumer has accepted their offer, they can simply drop off their vehicle, pick up their check and be on their way in minutes rather than hours," said Bruce Thompson, CEO/Founder of CarOffer™
Dallas, Texas (PRWEB) May 05, 2014
CarOffer™, launched in Dallas, Texas by industry entrepreneur Bruce Thompson, went live across the country on Thursday, April 17th, with the industry's first-ever mobile platform that allows consumers to sell their vehicle directly from their smartphone or desktop. The user-friendly app, employing the latest mobile technology, gives consumers the ability to launch their car within minutes from wherever they may be and receive a real-time cash offer from a bidding desk comprised of some of the nation's largest dealer groups. For the first time, consumers with the CarOffer™ tool will be able to sell their car on their own time, without the hassle and lengthy process of both traditional and alternative methods.
"For the consumer, selling a car is never a fun or easy process," said Bruce Thompson, CEO/Founder of CarOffer™. "Whether they choose to drive to dealerships all over town getting their car appraised, wait in line at a large used-vehicle operator like CarMax, or list their car for sale privately and play the waiting game, the current process is broken," said Thompson. "We knew there was a better way, and that's how CarOffer ™ was born."
Whether on the web or via the revolutionary mobile application, consumers can submit their car within minutes from wherever they may be. Once their car is launched, CarOffer's handpicked bidders will be waiting on standby to make them a cash offer in real-time. As soon as they accept the offer, they can go pick up their check at their local CarOffer™ Drop-Off Location.
CarOffer™ has partnered with top franchise dealerships in major markets across the United States including: Dallas, St. Louis, San Francisco, Buffalo, Atlanta, Miami and Houston, among many others, to serve as Official CarOffer™ Drop-Off Locations. These dealerships have been handpicked for their commitment to innovating the customer experience and upholding the integrity and principles of the CarOffer™ brand.
"The comfort and security of our customers is paramount to the continued success of CarOffer™," said Thompson. "By using prominent local dealerships as official drop-off locations, we can ensure that the transaction process for the customer is conducted in a safe, smooth and time-efficient manner. This allows the customer to simply drop off their vehicle, pick up their check and be on their way in minutes rather than hours," said Thompson.
The CarOffer™ application launched at the 2014 NADA Convention to dealers in January and is now available to consumers for free download on iPhone®, iPod touch® and Android devices. For more information, please visit http://www.caroffer.com or call 888-471-0787.
About CarOffer™
Founded in 2013 by Bruce Thompson (creator of Redbumper, LLC), CarOffer™ is based in Dallas, TX. Amongst an executive team with over 60 years of combined experience in all elements of the automotive industry, the company aims to provide unique and innovative software solutions that streamline and directly connect the consumer to the dealer across a wide spectrum of profit centers and technologies.