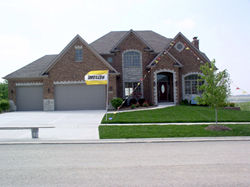 Homer Glen , IL. (PRWEB) May 02, 2014
C.A. Stevens Builders, a leading home building and remodeling company based in Homer Glen, Illinois, is celebrating 26 years of quality service to the residents of Illinois. Established in 1988, C.A. Stevens Builders has always operated on the principle that quality work at a competitive price will keep them in business, a principle that is as important to this company today as it was the first day of business. C.A. Stevens Builders is well-known for providing beautiful home and remodeing designs, exceptional quality work, super competitive pricing and top notch customer service. They believe in the importance of not only meeting the expectations of their customers, but exceeding it each and every time. And it is because of this dedication to quality and service that C.A. Stevens Builders has been in business for the past 26 years.
The owner of C.A. Stevens Builders, Chuck Stevens, credits their success to employing quality employees who have extensive experience. They offer a variety of services such as bathroom renovations, room additions and extensions, kitchen remodeling and custom home building with complete design services. They employ a high level of quality control, accountability and have intentionally kept their business small in order to provide their customers with the highest level of quality and attention to detail. "We've built our reputation on giving our customers more than they ask for. We work with our customers to ensure they are satisified with the results of their project. Rather than trying to build a huge company that services a huge geographical area and cut corners, we have focused our efforts on giving quality service to the city that has given so much to us."
"We have always strived to provide each one of our customers exactly what they are looking for. We only use the highest quality materials and use tried and true techniques to create beautiful results for every customer. We use a proprietary design process that helps us meet our customers' goals and remain in budget and on time. We feel as though these are the principles that allow us to remain in business year after year," says Mr. Stevens. "We want to thank our customers for allowing us to serve them over the past 26 years and are looking to provide them with quality home building and remodelings services for 26 more."
C.A. Stevens Builders now offers a new line of very affordable cabinetry that will not only make your kitchen, bathroom or other room look great, they won't break the bank. And all room additions constructed by C.A. Stevens Builders will be built in accordance with the new energy codes that were enacted in 2013.
C.A. Stevens Builders services the suburbs of Chicago including: Aurora, Broadview, Darien, Downer's Grove, Homer Glen, Lemont, Oak Lawn and many more.
Contact Information
C.A. Stevens Builders: Chuck Stevens
12255 Bentwood Dr., Homer Glen, IL. 60491
Phone: 630-415-1511
630-290-2910
info(at)castevensbuilders(dot)com
castevensbuilders.com/.