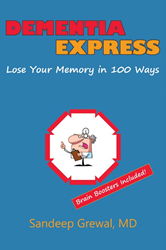 Why not give a job to the brain with such easy tasks? Let the brain stay sharp by doing the exercise.
Rock Hill, South Carolina (PRWEB) April 30, 2014
"Busy"? Everyone is busy in their own ways and as a result, there are a lot of things we tend to forget easily. "If you forget things frequently maybe it is time to get advice from experts and do those memory exercises not just crosswords or sudoku" says Dr. Sandeep Grewal author of the book Dementia Express: Lose Your Memory in 100 ways.
Things people forget can be as simple as forgetting car keys, forgetting to take out trash on the right day, leaving the grocery in the car trunk for a week or even totally blanking out on the doctor's appointment. It may be just the forgetfulness or short term memory loss. Dr. Sandeep Grewal explains in his book that using the stairs, instead of elevators, keeps your memory sharp. Forgetful people may not be paying enough attention on these matters. Not being able to give a challenging signal to the brain and not using it at all on such simple activities can lead to stagnation of the brain, memory loss and forgetfullness.
Dr. Grewal says why not give a job to the brain by giving it easy tasks such as below. Let the brain stay sharp by doing these daily acitvities. For example:

Try to remember a few phone numbers. Easy enough!
Try not to use GPS on the road. Turn off the GPS and turn on your brain
Remember a shopping grocery list without writing it down once in a while and test your memory
Be curious and learn more about places and phenomenon.
Attend online free classes. Educate and exercise the brain at the same time.
Dr. Grewal wrote the book Dementia Express: Lose Your Memory in 100 Ways to help his patients keep their brains active and thinking. The more activities and the more challenges given to the brain, more it will keep us away from chance of getting dementia.
Media Contact: Aye Myo 803 325 2236 or amy(at)acemedicalgroup(dot)org