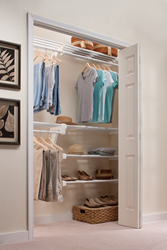 Our products can be installed with just a screwdriver by novices and professionals in less than 1/2 the time of other shelving systems.
Delray Beach, FL (PRWEB) April 30, 2014
Home Depot Online, the website for the mega-retailer The Home Depot, has added a new closet and garage organizer system to its list of products. EZ SHELF, expandable closet organizers and garage organizers, offer many benefits over other shelving systems, including ease of installation, strength, durability, versatility, maintenance, appearance and cost.
"EZ SHELF is the only closet and garage shelving system that expands to fit any space," said David Jablow, president of the company. "Our expandability allows for installation with no cutting and no drilling. As EZ SHELF includes self-drilling drywall anchors, our products can be installed with just a screwdriver by novices and professionals in less than ½ the time of other shelving systems."
Unlike other DIY closet organizer systems, EZ SHELF is made out of high strength telescopic steel tubes and injection molded brackets which can easily hold 200 pounds without securing to a stud. Included with all EZ SHELF products are Toggler Snapskru Self-Drilling Drywall Anchors that are the strongest anchors on the market. Other competitive closet and garage systems hold as little as 60 lbs., have up to double the amount of pieces, require cutting and drilling, and have insufficient anchors.
EZ SHELF installation time averages less than 20 minutes per shelf (with some being installed in as little as 10 minutes per shelf) and can be completed by a single individual. Instead of measuring the closet and then cutting the shelf to fit like most wire shelving systems, each EZ SHELF tube expands to the desired length and snaps into special tube brackets included with the kit. Center supports are included, which provide additional strength and prevent any potential sagging. End brackets are also available for joining two shelves together (for making extra-long shelves) or for attaching to the back-wall for easy corners.
Consumers and contractors across the USA have given EZ Shelf products fantastic reviews, including:
So Easy!
"The EZ SHELF was very easy to assemble and should hold up for a lifetime…we are very happy!" –Gary, New York, NY
Great Product!
"Expandability, flexibility and style. Super easy to install. My wife loves them!!" –Joseph Clayton, NC
Wow!
"The best closet organizer- fast and easy to install. A great deal! I give it an excellent rating!" –Robert Leandear, Texas
Besides a reach-in and walk-in closet, EZ SHELF products sold on Home Depot Online can be used in laundry rooms, garages, home offices, basements, attics, pantries and tool sheds; they can also be used in commercial applications for computer rooms, printer shelves, general office storage, and kitchen and warehouse shelving. The modular design allows shelves to be easily connected to each other for extra-long shelves, making them especially useful for garage shelving and garage organizers.
Home Depot Online carries several sizes of the EZ SHELF in both white and silver, and customers can choose between just the expandable shelf or the expandable shelf & hanger rod combination.
EZ SHELF has been available on Amazon, Ebay and the company website since 2011 and has had a successful launch on Home Depot Online; reviews and ratings from all three websites have been excellent. In addition, the product was recently selected for testing by "Handy Magazine" members, with over 98 % of the independent testers recommending the products.
About Tube Technology LLC
Tube Technology is located in Delray Beach, FL. Its products are protected by USA Patents & Canadian Patents.
For more information, please visit http://www.TheBestClosetOrganizer.com
or call 888-399-2880.
Contact
David Jablow, President
Tube Technology LLC
561-303-3591
http://www.TheBestClosetOrganizer.com