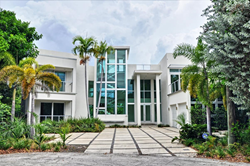 Well, real estate is always good, as far as I'm concerned. - Donald Trump
Fort Lauderdale, FL (PRWEB) May 01, 2014
With new regulations coming into effect, some experts are predicting that the housing market could get tougher for prospective homebuyers. Mortgages could become harder to obtain, and the rates for those mortgages could see an increase. These regulations are intended to prevent the kinds of unscrupulous lending that contributed in such large part to the housing crash of 2007, but some worry that they may have the unintended effect of keeping qualified homebuyers out of homes.
The new regulation, went into effect as of January 10, 2014, requires any potential homebuyer seeking a loan to have a debt-to-income ratio of no greater than 43%, say sources. This represents part of a system-wide rise in standards for mortgage lending in an effort to prevent a repeat of the 2007 housing bubble crash. The agents at Coast Realty & Management are aware that the situation could be big trouble for many first-time homebuyers, however – many are struggling under the weight of debt and still in need of a place to call home.
Another concern is that a new cap on the fees that banks can charge for mortgage origination may dissuade them from issuing low-value mortgages. Since a bank can now only charge a maximum 3% fee, some experts believe they will choose not to finance lower-value mortgages on which they see less return.
In addition, likely changes to the mortgage and real estate market in 2014 include requiring more thorough financial documentation from homebuyers, say experts. Taken together, these new regulations could sound less than optimistic for the coming year – but there is an equally bright side, as well.
"In fact, these requirements could be good for first-time homebuyers," a source at Coast Realty & Management confirmed. "The 3% rule, in particular, limits the amount that you can be charged in mortgage fees, and the debt requirement has all the hallmarks of being beneficial both for buyers and lenders, keeping practices fair and reducing predatory lending to a minimum. It could be great news for the housing market overall."
The debt-to-income ratio of 43% includes the debt from the mortgage itself, which could limit many would-be homebuyers suffering from considerable debt but with a bright future ahead. On the other hand, the regulations prevent potentially unscrupulous lenders from doling out mortgages they know will be defaulted on.
It remains to be seen what further changes and trends 2014 will hold for the real estate market, but the new regulations promise to change some of the negative practices in housing and lending that have plagued the industry in past years. While banks will certainly still be lending to homebuyers in 2014, the process may prove to be more selective than it has been in previous years.