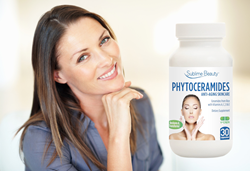 The Sublime Beauty® System to "Age Younger" with Phytoceramides has 6 easy steps.
Seminole, FL (PRWEB) May 06, 2014
The new system to help enhance Phytoceramide use is now available from Sublime Beauty®, and the simple system has only 6 steps.
"Taking a rice-derived Phytoceramide capsule daily is step one, and could this be any easier? The other 5 steps are also easy, and they were chosen to enhance the process of replenishing ceramides in the skin," says Kathy Heshelow, founder of Sublime Beauty®.
Skin, and the ceramides within, take about 30 days to journey from the deeper levels to surface of the skin. Easy skincare steps in the system facilitate this, including healthy Skin Brushing.
Dry Skin Brushing helps remove dead cells and toxins from the skin, and also enhances blood circulation and lymphatic movement. Making way for the new ceramides and collagen is essential for great results, says Heshelow. Skin Brushing is an ancient art now favored by celebrities and models, and it is invigorating.
Download the guide on the special Phytoceramide website or on the product page at SublimeBeautyShop.
Sublime Beauty® offers educational information on many of its products. "We want customers to understand what they are using, and get the most out of their efforts," says Heshelow.
About: Sublime Beauty® is a quality skincare company that focuses on products to "Age Younger". Products help to boost collagen, hydrate, relax wrinkles and improve skin. A niche includes healthy Skin Brushes. The company webstore offers free standard shipping and a VIP Club. Products also available on Amazon.