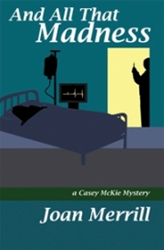 AND ALL THAT MADNESS is more than an intriguing mystery; it is a history of the drug wars of the Forties and Fifties when the US government targeted jazz legends like Billie Holiday and others to the point of persecution. – Joan Merrill
(PRWEB) May 02, 2014
"Exceptionally intelligent." - Carol Sloane, jazz singer and writer, carolsloane.com
"Merrill craftily deflects suspicion from suspect to suspect before sounding the final chord in this swinging whodunit." - Harvey Siders, JazzTimes
"I was agreeably surprised at the identity of the killer. Definitely a good read." - Bruce Crowther, Jazz Journal International
"AND ALL THAT MADNESS is more than an intriguing mystery; it is a history of the drug wars of the Forties and Fifties when the US government targeted jazz legends like Billie Holiday and others to the point of persecution." – Joan Merrill
To hear a sound sample, go to https://soundcloud.com/joanmerrill/excerpt/s-j1lns.
AND ALL THAT MADNESS is the fourth book in the ongoing Casey McKie series. The others are "And All That Stalking" (2012),"And All That Sea" (2010) and "And All That Murder" (2009). For more information, go to joanmerrill.com
Merrill knows the jazz scene, from her days in talent management, representing various jazz singers, producing radio shows for NPR's award-winning "Jazz Profiles" and for PRI/ Smithsonian's "Jazz Singers..".
She creates richly-drawn characters and descriptive surroundings that set the tone for a good read for jazz fans who like crime novels with a twist. Writing with flair and imagination, Merrill's pace is crisp, her dialogue snappy and apropos, and her comments on jazz, the music and the people, insightful.
Throughout Merrill's books, almost all of the characters, major and minor, are jazz people: singers, instrumentalists, agents, promoters, jazz writers, etc. There is on-going commentary on today's jazz scene and how it differs from yesterday. No preaching, just strong and well-argued opinions during realistic conversations between characters.
"Joan brings to mind, the wonderfully intimate jazz settings that many of us remember. I love audio books and these mysteries will keep you totally hooked, I know our jazz community will truly enjoy this effort" says Jaijai Jackson, creator of The Jazz Network Worldwide social network.
To purchase a download of MADNESS, go to audible.com Click Mysteries and Thrillers and put title in search menu. (You don't have to be a member to purchase.) For those of you who prefer CDs, go to joanmerrill.com (check or PayPal)
The fifth Casey McKie mystery, AND ALL THAT MOTIVE will be published this summer, and an audio book of STALKING is in production. All of the Casey McKie books are available in paperback and Kindle at http://www.amazon.com or http://www.joanmerrill.com.