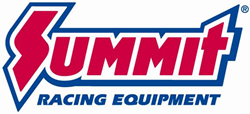 Tallmadge, OH (PRWEB) May 01, 2014
Available in 650 and 750 cfm versions, these mechanical secondary carburetors feature a Holley Ultra HP main body and AED's custom CNC-machined billet aluminum metering blocks. Each carburetor is hand-built and blueprinted, then wet-flowed to provide a balanced fuel delivery curve across the engine's RPM range. That makes an Ultra HO-Series carburetor virtually ready to run right out of the box.
Other features include:

Four corner adjustable idle circuits
Adjustable idle air bleeds
Aluminum fuel bowls with large site glass
Dual fuel inlets
Dual accelerator pumps
Dual vacuum ports
Reusable gaskets and washers
Choice of red or black metering blocks
See the AED Ultra HO-Series Carburetors at Summit Racing.
Summit Racing Equipment
http://www.SummitRacing.com
1-800-230-3030