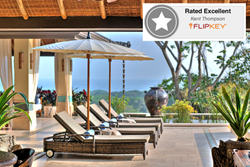 (PRWEB) April 30, 2014
Trip Advisor is one of the most trusted and well-known names in the modern-day travel industry. With over 200 million unique monthly visitors* it is an travel giant, focused on not only providing valuabe information to travelers, but also reflecting the quality of travel-related businesses through customer reviews. With over 100 million recorded reviews, Trip Advisor allows prospective travelers to get the honest scoop on establishments based on past customers' opinions.
Every year, Trip Advisor honors the top 10% of businesses in the travel industry with a Certificate of Excellence, based on these reviews. In order to qualify for the award, vacation rental agencies must maintain a minimum rating of 4 stars or higher, out of a possible 5.
Stephen Kaufer, president and CEO of TripAdvisor, states: "The Certificate of Excellence award provides top performing establishments the recognition they deserve, based on feedback from those who matter most – their customers."
Which is why Manuel Antonio Rental Properties is proud to receive the 2014 Trip Advisor Certificate of Excellence Award for the second year in a row.
"It's great to hear that our efforts towards customer service have been recognized," says Kent Thompson, owner and operator of Manuel Antonio Rental Properties. "It is an honor to be considered by Trip Advisor as an award-winning business in and award-winning beach destination."
Manuel Antonio Rental Properties specializes exclusively on luxury vacation rentals—rental homes and condos with ocean views and a pool. Their services range from property management in Manuel Antonio to full-spectrum vacation services within Costa Rica. Customers are assisted not only with their vacation rental selection and reservations, but also in-country transportation, concierge services, tour reservations, spa services, events, and chef services.
Visit the website for Manuel Antonio Rental Properties here.
In today's day and age, customer service is paramount to a business's success. Because of review-based sites like Trip Advisor, the standard for excellence and honest feedback has been raised. No longer can vacation rental agencies hide behind fancy marketing—the customer has spoken.

Source: Google Analytics, worldwide data, April 2013