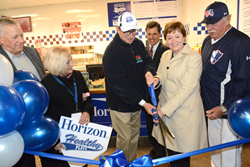 Bridgewater, NJ (PRWEB) April 30, 2014
Fans of the Somerset Patriots baseball team will find a healthier selection of food at their concession stands this season thanks to some culinary teamwork with Horizon Blue Cross Blue Shield of New Jersey. The Horizon Healthy Plate Concession Stand, which opened today at TD Bank Ballpark, offers heart-healthy and nutritious alternatives to the traditional ballpark fare. Members of the Somerset Patriots' ownership and management, Horizon Blue Cross Blue Shield of New Jersey representatives and New Jersey Secretary of Agriculture Douglas H. Fisher all participated in a ceremonial ribbon cutting for the stand prior to the start of the Patriots' game with the Camden Riversharks.
"Good food is an important part of the ballpark experience," said Jonathan Pearson, Director of Corporate Philanthropy and Community Affairs for Horizon BCBSNJ. "Through the Horizon Healthy Plate Concession Stand and our collaboration with the Somerset Patriots, we hope fans recognize the value of incorporating great tasting, nutritious foods into that experience."
The Horizon Healthy Plate Concession Stand menu was designed by certified nutritionists. The menu includes popular heart-healthy dining choices, such as a low fat turkey burger, a low-fat, low-sodium grilled chicken sandwich and a garden salad. The menu also will regularly feature JERSEY FRESH menu items made from produce grown in the Garden State. Each affordably-priced item includes calorie count and other nutritional information.
"We are excited to join Horizon in this nutrition-inspired initiative and look forward to being able to offer our fans healthy concessions," said Patrick McVerry, President and General Manager of the Somerset Patriots. "As a family-oriented organization, we understand the importance of smarter eating choices, and hope the Horizon Healthy Plate Concession Stand can help make those choices easier and affordable."
"Adding Jersey Fresh to the Healthy Plate Concession Stand is a Grand Slam for baseball fans," said Secretary Fisher. "I am pleased that New Jersey farmers could join the team that will be bringing healthy eating alternatives to fans at New Jersey's great minor league baseball venues."
In addition to TD Bank Ballpark, Horizon Healthy Plate Concession Stands are available at three other minor league baseball parks: Campbell's Field (Camden Riversharks), Arm & Hammer Park (Trenton Thunder) and FirstEnergy Park (Lakewood BlueClaws). In its first year at these ballparks in 2013, more than 1,500 Horizon Healthy Plate Concession Stand menu samples were distributed and nearly 14,000 menu items were sold.
The Horizon Healthy Plate Concession Stand has received the support of the New Jersey Department of Health, which administers ShapingNJ, a public/private partnership for nutrition, physical activity and obesity prevention.
##
About Horizon Blue Cross Blue Shield of New Jersey
Horizon Blue Cross Blue Shield of New Jersey, the state's oldest and largest health insurer, is a tax-paying, not-for-profit health services corporation, providing a wide array of medical, dental, and prescription insurance products and services. Horizon BCBSNJ is an independent licensee of the Blue Cross Blue Shield Association, serving 3.7 million members with headquarters in Newark and offices in Wall, Mt. Laurel, and West Trenton. Learn more at http://www.HorizonBlue.com.