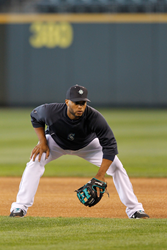 Chicago, IL (PRWEB) May 01, 2014
Wilson Sporting Goods Co. is proud to announce its new partnership with Seattle Mariners second baseman, Robinson Cano. From David Wright to Dustin Pedroia, the Wilson Advisory Staff is loaded with the best players in Major League Baseball. Today, Wilson is thrilled to add Robinson Cano to the Wilson Advisory Staff.
Cano continues his dominance of the game as the active second baseman with the most double plays and his five All-Star Game appearances. He was a member of the Yankees 2009 World Series championship team and the Dominican Republic's 2013 World Baseball Classic championship team, for which he won Most Valuable Player award. There's no denying Cano is on fire on the baseball diamond.
When Cano is covering second base, he does it with the most popular Wilson infield baseball glove model, the A2000 1786. His custom designed A2000 1786 features SuperSkin™, a lightweight, man-made material that Wilson strategically places throughout the glove to shorten its break in time, lower reaction time and repel moisture.
With the Cano's input and the feedback of all members of the Advisory Staff, Wilson will continue making gloves that will help elevate athletes at every level in the game.
Wilson Sporting Goods has been the Official Ball Glove of Major League Baseball for over 20 years. Beginning with the introduction of its first ball glove in 1919, Wilson has proudly outfitted thousands of Major League Baseball's brightest stars, from Ted Williams and Ernie Banks to Robinson Cano and Dustin Pedroia. Learn more at http://www.wilson.com and follow Wilson on Twitter (@wilsonballglove), Facebook and Instagram. Create a custom Wilson ball glove like Cano's at http://www.WilsonCustomGloves.com.
---Wilson.com---