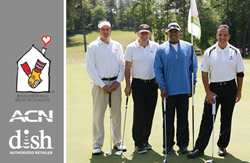 Concord, NC (PRWEB) May 02, 2014
In less than a week, nearly 150 golfers and celebrities from across the U.S. will come together for a beautiful day of golf at Trump National Golf Club located in Mooresville, NC, for the fourth annual Ronald McDonald House Celebrity Golf Tournament, made possible by ACN Global Reach Charities and presented by DISH Network. To the players, it's not only about impressive score cards and a great day on the greens but more importantly it is about making a difference. In fact, the tournament raises much-needed funds for the Ronald McDonald House of Charlotte – a home away from home for families with sick children.
ACN is excited to announce our invaluable corporate sponsors who are helping to make the 2014 event possible.
Titanium Sponsor:
Dish Network
Platinum Sponsors:
Wells Fargo
DPI
Vivint
Success
Red Ventures
Gold Sponsors:
Xoom
Nixon Peabody
Telispire
Charlotte Bobcats
San Direct/Alter Imaging
Silver Sponsors:
Moxie
Zervina
Tego Data
EDF Trading NA
Charlotte Motor Speedway
HarkerDoerre
Sprint
RBC Wealth Management
Anovia
Deloitte
Grant Thornton
Rose Limo
Bingham McCutcheon
Carolinas HealthCare System
HughesNet
Bronze Sponsors:
Pluto
MP Productions
Moore & VanAllen
MDS
Ogletree Deakins
Ingram Micro
Broadsoft
Tepel Brothers Printing
S&D Coffee
Go! Experience Design
Fifth Third Bank
The Van Winkle Law Firm
TransNexus
Last year's event raised a record-breaking $219,000 – 100% of which went directly to the Ronald McDonald House of Charlotte. And with the help of the local community, ACN is confident that that record will be broken again at this year's event on Monday, May 5, 2014.
ACN is the primary donor to ACN Global Reach Charities and has long been a supporter of the Ronald McDonald House Charities and of the House in Charlotte. In 2008, the company chose Ronald McDonald Houses as its global charity and began collecting donations for the local Ronald McDonald House chapter at each of its quarterly training events held throughout the world raising millions of dollars for this worthwhile charity.
About ACN Global Reach Charities, Inc.
Founded in 2011, ACN Global Reach Charities is a non-profit organization with the mission of expanding the charitable efforts initiated by ACN, Inc. by providing focused management and increased fundraising efforts. The non-profit continually seeks out new opportunities to work with charitable organizations and is devoted to making improvements on a local level. Its grass-roots efforts have raised awareness in the Charlotte area and surrounding communities. In addition to its many efforts, ACN Global Reach Charities organizes and hosts the RMHC Celebrity Golf Tournament, an event designed to raise money for the Ronald McDonald House of Charlotte. For more information on ACN Global Reach Charities, visit http://www.acncharity.com.
About the Ronald McDonald House of Charlotte
The RMH of Charlotte serves the families of children being treated at Levine Children's Hospital and Hemby Children's Hospital. Located at 1613 East Morehead Street on land donated by Carolinas Medical Center, the House features approximately 35,000 square feet of living space complete with 28 bedrooms, providing more than 10,000 nights for the families. The mission of the RMH of Charlotte is to provide the families of children being treated in area medical facilities with a safe, affordable and caring "home away from home". For more information on RMH of Charlotte, please visit http://www.rmhofcharlotte.org.