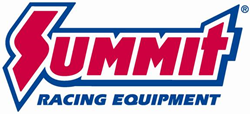 Tallmadge, OH (PRWEB) May 05, 2014
Available in 400, 700, or 1,000 horsepower versions, Be Cool Direct-Fit Cooling Modules are designed to drop in place with no fabrication required. At the core of each Module is an aluminum radiator with two rows of one-inch tubes and a billet aluminum filler neck. A single or dual high torque electric fans are included depending on the application. Rounding out the kit is a fabricated aluminum coolant recovery tank and a billet aluminum radiator cap. Fan mounting brackets, wiring harness with 40-amp waterproof relay, sending unit, and fuse are included.
With over 260 Be Cool Direct-Fit Cooling Modules currently available, chances are good that Summit Racing has one to fit popular GM, Ford, or Chrysler musclecars and trucks. We even have Modules for stuff like 1940-41 Willys street rods, AMC Javelin and AMX, and Toyota Land Cruisers with small block Chevy swaps.
SEE ALL BE COOL DIRECT-FIT COOLING MODULES AT SUMMIT RACING
Summit Racing Equipment
http://www.SummitRacing.com
1-800-230-3030