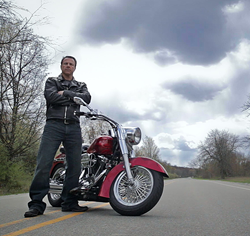 At the end of the day, it's all about safety. I want to encourage drivers to look out for bikers, and for all of us to have a good, safe summer.
Detroit, Michigan (PRWEB) May 01, 2014
Did you know that May is Motorcycle Awareness Month? As the weather warms and gets nicer, more and more motorcyclists are back on the roads for the riding season. Attorney Jason Waechter – The Motorcycle Lawyer – has a message for all drivers: "Please, watch for motorcyclists," he says. "At this time of year in a lot of states, motorcyclists are just getting back on their bikes, and drivers need to get used to carefully looking out for them. Please, take the extra time and that extra look to make sure you're not endangering a motorcyclist's life."
Waechter is dedicated to giving back to the biker community, and uses his website to provide a wealth of free information about the law, bikers' rights, and motorcycling safety. In honor of Motorcycle Awareness Month, he would like to ask all drivers to observe these five safety tips to help keep motorcyclists alive this season:
#1: See the motorcyclist! Remember, there's a person on that bike who has a family, and you can help to keep them safe.
#2: "Look twice, save a life!" Be extra careful at this time of year, especially if you live in a cooler climate where motorcyclists haven't been on the road all winter; you might not be used to seeing them on the road. Check and double-check your blind spots. Signal before you move. Don't take risks, especially when passing or turning.
#3: Treat a motorcycle like a car. Motorcyclists have the right to use the whole lane, just like motor-vehicle drivers. Remember, stuff on the road that wouldn't affect a car or truck can affect a motorcycle; motorcyclists sometimes need to move laterally within a lane to avoid debris. Don't crowd them.
#4: Back off! Following too close is a bad idea regardless of what type of vehicle is ahead of you, but it could be deadly for a motorcycle. Remember that motorcyclists can't "stop on a dime", and that there is no such thing as a minor "fender bender" when you're talking about a motorcycle.
#5: You've got nothing to prove, so don't try. Even the slightest contact between a vehicle and a motorcycle could be deadly, and you will probably never forgive yourself if you hurt or kill a motorcyclist. Let common sense prevail, and help keep everyone on the road safe.
"At the end of the day, it's all about safety," says Waechter. "I want to encourage drivers to look out for bikers, and for all of us to have a good, safe summer." Waechter encourages all drivers to get involved in a motorcycle awareness campaign, and offers free "Watch for Motorcycles" bumper stickers on his website. "It's so easy to get involved in promoting motorcycle safety," he says. "Get a bumper sticker to remind other drivers to watch for motorcyclists. Share safety tips and reminders on social media. Talk it up… you could save a life!"
###
Jason Waechter has spent two decades cementing his reputation for results. Over the years, he has specialized his practice to motorcycle accidents. Jason has fought tirelessly for accident injury victims and contributed significantly to safety education and accident prevention. He has entrenched himself as one of the nation's premier lawyers. If you or a loved one has been injured in an accident, call 1-800-708-5433 to speak with a lawyer who can help.