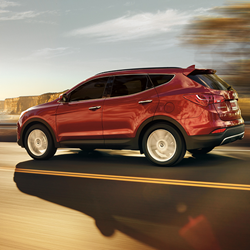 Obviously, drivers want more from a crossover than an ability to perform in the snow and ice.
Oklahoma, City (PRWEB) April 30, 2014
The New England Motor Press Association (NEMPA) recently announced that the 2014 Hyundai Santa Fe took home the title of Best Affordable Crossover under $28,000 at the 2014 Winter Vehicle Awards. This is the second year in a row that the Santa Fe has received this accolade. The NEMPA declared that the Santa Fe was tied with the 2014 Kia Sorento for the best vehicle to drive in the winter weather of New England.
Hyundai Oklahoma City likes to believe that this distinction just goes to show the work and dedication to quality that goes into the design of Hyundai's automobiles, specifically the Santa Fe. Hyundai OKC stocks Santa Fe's that have features like the Active Cornering Control All-Wheel-Drive (AWD) system and Vehicle Stability Management (VSM) system.
So what exactly went into the 2014 Santa Fe being chosen for this award? Well, this part was more like the Olympics than the Academy Awards. The NEMPA evaluated the performance of many vehicles throughout the winter months. The competing models had to not only display an ability to function in winter weather, but had to be a quality, dependable, enjoyable all-weather vehicle as well. The Santa Fe showcased all these things and more.
What makes this win even more impressive is the high level of competition in the crossover segment.
"Obviously, drivers want more from a crossover than an ability to perform in the snow and ice," said Emily Taylor at Edmond Hyundai, "They want comfort, reliability, cargo space, and seating for at least six, and the 2014 Hyundai Santa Fe crossover pulled it all off for less than $28,000."
Hyundai OKC has the 2014 Santa Fe equipped with new safety technologies and premium features including blind spot detection, rear parking assistance, standard vehicle stability management, anti-lock braking system and seven airbags. However, we all know that what really matters is the work they do. That's why the 2014 Hyundai Santa Fe has a 3.3-liter V6 engine under the hood. And while that sounds nice, the fuel economy, driveability, and 5,000 lbs. towing capacity are enough for a standing ovation.