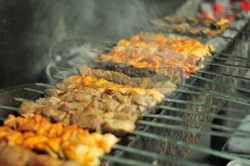 New York, NY (PRWEB) April 30, 2014
Brooklyn's Famous Nargis Cafe, the central Asian hotspot that Village Voice restaurant critic Robert Sietsema has named as one of his favorite Brooklyn eateries, is actually one of the few area restaurants that grill meat and fish directly over real charcoal. Sietsema singles out the smoky sea bass kebabs topped with grilled onions as one of the "must-try" dishes, and he also highly recommends the lamb rib kebabs, with their strong wood-smoked taste, the flavorful onion-laced ground lamb lulya kebab, grilled chicken kebab and the crispy-skinned marinated Cornish hen. Other charcoal-grilled meats on the menu include lamb, lamb ribs, beef, veal liver, lamb chops, chicken wings, and chicken hearts. Nargis Cafe's "unstintingly fresh" and heart-healthy charcoal-grilled fish also comes in for its share of praise, including the "crackling and succulent" trout as well as sea bass, salmon, bronzini, and the catch of the day. Many of these charcoal-grilled entries are served with a side dish of rice or vegetables.
Nargis Cafe also features appetizers and entrees with an international flair. Cold appetizers include Russian-style pickled herring and a cumin-spiced shredded carrot salad, as well as a Korean-influenced spicy cabbage kim-chee. The Village Voice called the Tashkent salad, made with boiled beef, eggs, shredded radish and scallions "unexpectedly delicious", while Chef Big B suggests the middle eastern-influenced Bojon salad made from garlicky roasted eggplant. The middle eastern influence also makes itself felt with the inclusion of baba ghanoush and hummus as appetizers, while another Chef Big B recommendation, the meat-stuffed samsa pastries. Manti, meat-stuffed dumplings, are kind of like Chinese pot stickers, although quite a bit larger – the Village Voice calls them "fist-sized", and Big B claims that this dish alone has made repeat customers out of many first timers.
As the perfect complement to its tasty charcoal-grilled meats and fish, Nargis Cafe has recently introduced a lineup of several European (or European-style) draft beers: Blue Moon, Stella Artois, Grolsch, Peroni, Weihenstephan, Krusovice, Staropramen and Pilsner Urquell. They also have European red and white wines to go with every menu selection, and non-alcoholic beverages ranging from homemade fruit juices to drinks to green and black teas, espresso, cappuccino and sparkling water. The dessert menu features a diverse range of delectable treats including baklava, Napoleons, molten lava cake with ice cream, Russian chocolate layer cake and a type of central Asian pastry "Chak –Chak" made from sweet, crispy noodles.
Brooklyn's Famous Nargis Cafe is not only the go-to place for some of the best food in town, but it's also becoming quite the trendy spot to see and be seen. It was featured on an episode of the Cooking Channel Show "The Culinary Adventures of Baron Ambrosia", where the Baron sampled the Lagman soup made with homemade noodles and juicy chunks of lamb and beef, and was also chosen as a shooting location for an episode of the FX Channel series "The Americans". Chef Big B is pleased that this Cold-War spy drama chose his establishment, feeling that this paid quite a compliment to his "authentic central Asian" décor. The restaurant's newly expanded dining room features soft lighting, vivid colors and authentic tapestries from Big B's native Uzbekistan – the chef calls it "the perfect dining atmosphere...ideal for couples and families." Lately Nargis Cafe were featured in New York Times.
A warm and welcoming space, and a menu with options to suit everyone from the gourmet sophisticate to the meat and potatoes eater. Hearty food, generous proportions, delicious flavors – as the Village Voice and numerous happy patrons agree, the Nargis Cafe is truly one of Brooklyn's best dining experiences.
About:
Brooklyn's Famous Nargis Cafe, at the corner of Coney Island and Avenue Z, is already a go-to spot for exotic eats. The addition of some of the finest European (or European-style) brews, the perfect complement to the charcoal-grilled meats and fish and all the other delicious entrees on the menu, is sure to spread its fame far and wide.