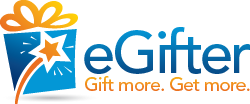 Melville, NY (PRWEB) May 01, 2014
eGifter, the social gifting company, announced today it has expanded its Social Gift Registry Platform with mobile applications for Android and iOS devices. The apps let consumers scan items in a retailer's store and add them directly to their eGifter-powered social gift registries.
The eGifter platform has many features that set it apart from traditional gift registries, including a group gifting option that lets users invite friends via social media to pitch in on large-ticket items for baby showers, weddings and other occasions. By cutting out bulky gift registry scanners, the apps eliminate hardware maintenance costs for retailers and provide consumers with a mobile app they can use to manage their registry in-store, at home, or on the go.
"Our solution continues to push forward the evolution of the gifting industry, tying together all aspects of a truly personalized gift, while making it easier for consumers to receive the gifts they actually want," said Tyler Roye, co-founder and CEO of eGifter.
The mobile application is an enhancement of eGifter's existing Social Gift Registry program, which leverages social networks to help registry owners and gift givers spread the word to make the registry more successful.
The eGifter solution also allows for personalized animated eGreeting cards with video messages.
eGifter's registry platform can either augment a company's existing registry technology, or can be delivered as a turnkey, hosted gift registry solution, customizable for individual businesses. The platform is also available for Wish Lists, making it an ideal gifting solution for retailers of all types of merchandise.
The eGifter Social Gift Registry is designed to increase the number of gift registries, number of items per registry, average gift registry item value, total value per registry and conversion percentage of browsers to buyers.
"The eGifter Registry Platform is already having a material impact on the above key metrics," added Roye. "With consumers spending up to $19 billion annually buying presents for wedding registries alone, this is a great opportunity for businesses to add personalized, easy-to-use social and mobile registries to their business to drive sales of higher-cost items with minimal investment on the front-end."
For more information on the eGifter registry solution, or to see a full list of brands in the eGifter marketplace, visit http://www.eGifter.com.
About eGifter
eGifter revolutionizes the act of gift giving with a social and mobile gifting platform designed to create a fun experience for consumers, while helping retailers unlock the viral potential of gift giving in social spaces. eGifter is based in New York and was founded in 2011 by a group of proven tech entrepreneurs. To learn more about eGifter and their social and mobile group gifting platform, visit http://www.eGifter.com/Retailers/. Try it out at http://www.eGifter.com, or download the mobile app from iTunes or Google Play.