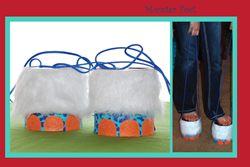 Stressed out hostesses don't throw fun parties!
Fort Collins, CO (PRWEB) April 30, 2014
Easy party tutorials that show hostesses how to create one-of-a kind party embellishments in minutes but add huge impact to events of all kinds are the newest addition to the Confetti Couture website. Loads of party ideas are organized into an easy to navigate website that walks a hostess through planning a party, baby shower, or any other type of event, from start to finish.
The latest party trends are geared toward personalized parties with hostesses looking to add unique details and hand made touches. Confetti Couture's new party tutorials make it simple. Lots of great photos with easy to follow steps, clear instructions, and supply lists that require common tools and supplies make Confetti Couture party tutorials a hostess' dream.
Many of the tutorials are simple enough for a child to complete, making them perfect party activities. Party activities that can be taken home as a party favor? Bonus!
Confetti Couture's party planners work to make entertaining easy on hostesses. With the details planned for any type of event in scores of themes on their website, Confetti Couture's free plans, party tutorials, and coordinated party supplies are like having a party pro by the hostess' side every step of the way.
Stressed out hostesses don't throw fun parties. Confetti Couture party designers emphasize keeping expectations real, and planning ahead. They have developed the "Virtual Party Planner" to help the hostess keep it simple and be an entertaining superstar, losing the stress, and hosting a great party that is fun!
About Confetti Couture
Confetti Couture is an innovative manufacturer offering unique party supplies and bakery products for the modern hostess. On their website, you can find an array of products that give the hostess a sophisticated, but playful edge on entertaining. Confetti Couture's hand designed art sets their products apart from the usual and expected party goods and brings personality to the party. The Confetti Couture website is a complete and creative planning resource filled with party ideas for hosting a wedding, party, or any other event.
800-808-4995
.com