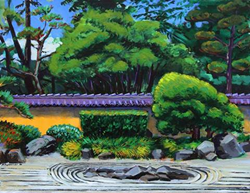 The Garden is like the surface of another planet, with an endless variety of exotic forms and intense colors.
Aliso Viejo, CA (PRWEB) May 07, 2014
30 original oil and acrylic on canvas works created in the Huntington Library garden by painter and educator Dennis McGonagle will be on exhibition for the first time in "Landscapes from the Huntington Library" showing from May 19 – August 25, 2014 at Soka University's Founders Hall Art Gallery 2nd Fl. The Gallery is open from M-F, 9 am – 5 pm. Admission is free. The Opening Reception will be held on Thursday, June 5, from 5:30 – 8 pm.
McGonagle is well-known for his use of color in capturing Southern California landscapes and for a series of captivating murals he has created in Whittier since 1975. He is a proud member of the Huntington Library Garden Arts Guild and was inspired by the garden for this series of paintings, explaining that "The Garden is like the surface of another planet, with an endless variety of exotic forms and intense colors."
McGonagle was born in Los Angeles. Mentored by James Doolin, he graduated from California State University, Long Beach with an MFA in studio art, focusing on painting, Mexican art history and Spanish. He earned the Music Center's Bravo Award for outstanding art educator last year. His work may be viewed at McGonaglestudio.com.
Soka University is located at 1 University Drive, Aliso Viejo at the intersection of Wood Canyon Drive and University. For a map and driving directions see http://www.soka.edu/directions. For more information, see http://www.soka.edu, email info(at)soka(dot)edu or call (949) 480-4081.
Soka University is a private, four-year liberal arts college and graduate school in Aliso Viejo, CA. ranked in the top 50 National Liberal Arts Colleges by US News and World Report's Best Colleges 2014. SUA offers a 9:1 student/faculty ratio and study abroad for every undergraduate student. Founded upon the Buddhist principles of peace, human rights and the sanctity of life, SUA is open to top students of all nationalities and beliefs. About 60% of SUA's students come from the US and 40% have come from more than 40 other countries. Admitted BA students whose annual family income is $60,000 or less may be eligible for Soka Opportunity Scholarships which cover full tuition. Additional scholarship opportunities are available for higher income levels.