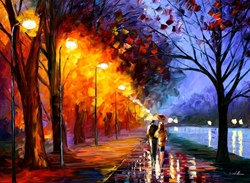 Los Angeles, CA (PRWEB) May 01, 2014
Art lovers know that safely storing and transporting their art can be a difficult and precise process that requires the right materials—as well as the right know-how—in order to keep the artwork pristine. Temperature and humidity are known art killers, and many an artist or collector have lost prized pieces to these elements. However, other factors such as acidity and chemical makeup of the packing materials, as well as the positioning of the art during transportation, can present significant dangers of their own.
Properly stored, canvases and other similar surfaces should be wrapped in breathable materials that do not trap moisture in with the art. They should also be stored in an elevated position or in well-lined boxes to prevent moisture from being absorbed through the ground. However, there is more to keeping artwork safe than its physical positioning. Due to the delicacy of paint, oils, canvas, paper, and other materials central to the creating of fine art, it is vital that the materials used to pack artwork should not only be breathable, but acid and chemical free. These are the silent killers in art storage. When handled improperly, it is not uncommon for paintings to be irreparably damaged from the chemical and physical breakdown of the paint. Worst of all, the acidity and chemical makeup of packing materials may not be evident to those doing the packing, and can have lasting and damaging effects on the tainted materials, even after the packing materials have been removed! It should be obvious that art storage and transportation can be a tricky business, especially for the amateur art lover who may not realize that the padding they use to keep their prized possessions safe may actually be the most damaging factor!
An untold number of masterpieces have been lost throughout history to the elements and simple mishandling. That's why it's important for anybody who wishes to transport valuable or personally significant artwork to make sure they entrust their prized and irreplaceable possessions with the right team of moving professionals. The movers at 24-7 Van Lines have taken all the dangers and difficulties of art storage into account and prepared their fleet accordingly. Using only the best tools and equipment, every employee has been specially trained in-house in proper art storage technique. All trucks are packed with the best blocking and bracing in mind, keeping external pressures on boxes down. Before a truck sets off, everything is made sure to be extra secure inside quality double-lined boxes that are designed to keep out any outside moisture and contaminants. Inside the boxes, any fragile items are wrapped and padded extensively, and all packing materials are guaranteed to be bleach and acid free. Art storage and transportation no longer has to be a stressful and time consuming job.
Press Contact
Mark Tanning
24-7 Van Lines
323-920-0048