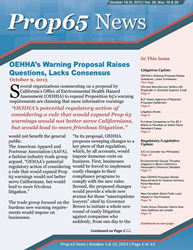 Prop 65 News is an invaluable guide to Proposition 65 regulation compliance and litigation.
San Diego, California (PRWEB) April 30, 2014
Prop 65 News is extending its' 1040 special, providing relief to companies seeking information to aid in their California Proposition 65 compliance efforts.
The special combines an annual subscription to Prop 65 News, a regulatory publication dedicated to covering significant regulatory, legislative and litigation developments affecting Proposition 65 compliance and practice, with the Proposition 65 Handbook – 2013 edition, an encyclopedic desk reference covering significant compliance and practice issues.
Prop 65 News has published more than 4,200 articles about California's Proposition 65 since it began publishing in July 1987. The publication maintains the most complete news archive covering the statute. The publication is designed to help companies unfamiliar with Proposition 65 find needed information and also provides news and data useful to those who have practiced in this area for several years. Subscribers have access to a regulatory calendar, chemical lists and settlement data.
The latest edition of the Proposition 65 Handbook adds more than 200 pages of new material to the previous edition, providing fresh analysis of news and events through November 2013.
The 1040 special provides a $350.00 discount on the combined products through May 31, 2014.