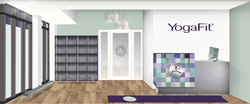 Los Angeles, California (PRWEB) April 30, 2014
YogaFit Trainings Systems Worldwide is proud to announce its partnership with Lift Brands, parent company to Snap Fitness and five other wellness concepts, to offer a breakthrough, first of its kind 24/7 yoga franchise concept called YogaFit Studios.
"We have always taken pride in the fact that YogaFit is accessible, understandable, and doable by any individual at any level," said Beth Shaw, founder and CEO of YogaFit. "And YogaFit Studios will provide a great place for people to experience the transformative effects of yoga, while also getting in shape."
An estimated 20 million Americans practice yoga and spend nearly $6 billion annually in classes, equipment, DVDs and more. Lift Brands is banking that a 24/7 studio offering live and virtual on-demand yoga classes for all skill levels is an entrepreneurial success story waiting to happen.
In a game-changing move, Lift Brands has set the initial price to open a studio as low as $80,000. With in-house Lift Brands financing, a studio can be owned with a down payment as low as $20,000.
"Our goal is to open 1,000 domestic studios over the next five years offering the independent yogi, yoga instructor, or wellness entrepreneur the opportunity to own a meaningful slice of the yoga business worldwide," said Peter Taunton, Lift Brands Founder and CEO. "We are confident yoga is here to stay and we are targeting aggressive expansion."
"The vast majority of wellness concepts and 100 percent of the yoga concepts today are expensive and out of reach to the majority of potential business owners," said Taunton. "The industry needs changing, and Lift Brands is the company to do it."
Taunton also expects YogaFit franchises to appeal to the more than 100 million people worldwide involved in the yoga lifestyle and nearly 200,000 yoga instructors domestically who are certified through YogaFit training. In 2013, Lift Brands executed a licensing agreement with YogaFit, the world's largest yoga certification and training authority that served as a foundation for the new concept.
The first YogaFit Studios location is set to open May 2014 in Excelsior, Minnesota. In traditional yoga lifestyle fashion, the YogaFit Studios concept has pledged an unprecedented industry-first charitable contribution on behalf of every membership to help the larger community both locally and globally.
"Giving back is the right thing to do, and we plan to positively affect each community we enter," Taunton said.
The Excelsior studio is the first of many locations planned. Lift Brands is currently taking reservations for territories through yogafitfranchise.com. To learn more about YogaFit Studios or find a location near you, visit yogafitstudios.com.
About YogaFit® Training Systems Worldwide
YogaFit® Training Systems Worldwide was established in 1994 and has since trained more than 200,000 yoga and fitness professionals worldwide. The leader in mind body fitness education, YogaFit® is the largest training school for yoga instructors in North America with further expansion ongoing internationally. YogaFit® and the American Council on Exercise (ACE) have been partners since 2003. Founder and President Beth Shaw is internationally recognized as the foremost authority on yoga and fitness and has been profiled in print publications and television programs including Oprah's O Magazine, CNN, The Wall Street Journal, The Huffington Post, The New York Times, USA Today, Entrepreneur, SELF and is currently a New Business Group Member of the New York Times. YogaFit® is committed to community service as well as supporting animals and humanitarian causes.
For more information on YogaFit®, please visit http://www.YogaFit.com.
About Lift Brands
Lift Brands elevated wellness companies is the largest wellness franchise organization in the world with 3,000 clubs open or in development, in 15 countries, with 400 employees and 1.5 million members. Lift Brands offers franchisees around the globe fitness options for most price points. With an initial investment of $20,000 up to $250,000, entrepreneurs can invest in a variety of franchise opportunities and Lift Brands offers additional financing, training and world-class support along the way. Lift Brands is lead by Peter Taunton, who brings more than 30 years of experience in the fitness sector. The Lift Brands portfolio currently includes Snap Fitness, Kosama group fitness, Fitness on Demand, STEELE Fitness, 9Round kickboxing fitness and YogaFit Studios.