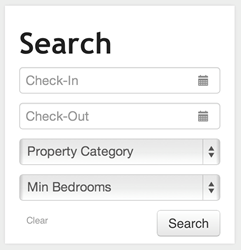 We're confident our future clients will find the process of reserving their vacation rental home or condo easier than ever.
(PRWEB) April 30, 2014
When it comes to vacation rentals in Costa Rica, the internet is the fundamental marketing tool. Most prospective Manuel Antonio vacation home renters find their rental homes online, and—as with most goods and services these days—customers are demanding the facility of making online reservations and payments.
The vacation rental industry is changing to meet the demands of an internet-based marketplace. Whereas in the past reservations were largely made via telephone and paid via check-in-the-mail, nowadays vacation rental agencies in Manuel Antonio must be able to market their properties online, work with online reservations, and accept credit card payments.
Manuel Antonio Vacations has just adopted a new calendar and reservations system that is a step ahead of the game. Not only does it make searching and sorting vacation rental options easy—but also the process of reservation and payment. Like with sites such as Homeaway and Flipkey, customers can sort through the vacation rental home options based on key criteria such as check-in and check-out dates, number of bedrooms, and property type. They can also create lists of their favorite properties, or sort through pre-organized 'search buckets'—such as 'Weddings & Events Venues', 'Walk-to-beach', and 'The Upper Tier' luxury properties.
Here are some of the features of the new system:

Search feature based on availability, # of bedrooms, & property type
Make 'favorites' lists of available properties
Real-time availability searches
Calendar synchronization with Homeaway and Flipkey
Online reservations capabilities
Online credit card payment capabilities
Search Buckets- pre-organized search groups
Manuel Antonio attractions & beaches
"We're confident our future clients will find the process of finding and reserving their vacation rental home or condo easier than ever," says Nicole, the reservations manager at Manuel Antonio Vacations. "Just enter your dates and the number of bedrooms and push 'Search'."
State-of-the-art reservations systems are only part of the modern-day competition between vacation rental agencies, however. Customer service is paramount, as well as the ability to convey the features and attractions of each property. Detailed descriptions, photos and videos are important elements of marketing for any vacation rental.
Manuel Antonio Vacations seeks to set the bar when it comes to the way the customers reserve and experience their vacation rentals in Costa Rica—and the new reservations system is the final step.