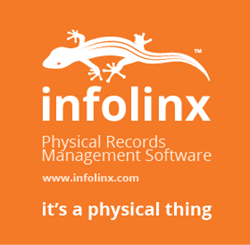 Kensington, MD (PRWEB) May 01, 2014
Today, Infolinx System Solutions™, a leading provider of enterprise physical records management software, announced that it would be exhibiting with O'Neil DataTech at the 2014 PRISM (Professional Records & Information Services Management) International Annual Conference. Hosted May 5-8, 2014, at the Westin Mission Hills Resort and Spa in Rancho Mirage, CA, the conference agenda includes keynote speakers, sessions, and panel discussions focusing on the traditional four core markets: records management, data protection, document and media destruction, and scanning and imaging.
Located in booth #401, Infolinx will be demonstrating the real-time integration between the Infolinx and O'Neil products. Reflecting this year's conference theme, "Knowledge You Can Leverage," the integrated solution pairs the front-end enterprise physical records management application Infolinx WEB with the off-site warehouse application RS-SQL via the oneilBridge cloud connector. Benefits of the unified solution include a single interface for managing the entire life-cycle of physical records regardless of storage location, seamless requesting of box pickup and delivery, data reconciliation, and streamlined records disposition.
By entering the process earlier in the records management life-cycle via the Infolinx integration, RS-SQL providers increase the value offered to their clients. Commented Chip Benson, Director of Business Development for Infolinx, "Now commercial records centers using O'Neil can offer world class full life-cycle records management. Offering additional services and products like Infolinx strengthens and secures long term relationships with their customers."
About Infolinx®
Infolinx System Solutions is a leading provider of DoD5015.2-certified enterprise physical records management software. Full life-cycle records management for archives, records centers, and file rooms includes integrated Enterprise Content Management, third-party warehouse integration, robust searching, online requesting, complete audit history, location reconciliation, supply item ordering, retention schedule and legal holds management, integrated RFID technology, space management with charge-back functionality, extensive reporting capability, advanced security configuration, workflow email notifications, and legacy data sharing. Available as an on-premises or cloud-based solution, Infolinx maintains clients within all major business segments and the public sector. Infolinx System Solutions Demo.