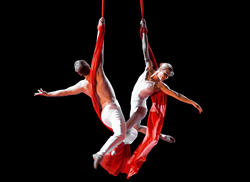 New Brunswick, NJ (PRWEB) April 30, 2014
State Theatre and New Jersey Symphony Orchestra present Cirque de la Symphonie with the New Jersey Symphony Orchestra on Sunday, June 8, 2014 at 3pm. Tickets range from $20-88.
Acrobatic performers from Cirque de la Symphonie join the New Jersey Symphony Orchestra for the NJSO POPS season finale. Cirque's troupe of exceptional artists—aerial flyers, acrobats, contortionists, dancers, jugglers and strongmen—will perform on stage as the Orchestra performs classical favorites, including music from Bizet's Carmen, Tchaikovsky's Swan Lake, Mendelssohn's "Italian" Symphony, Khachaturian's Masquerade Suite, Kabalevsky's The Comedians and John Williams' score from Superman. NJSO Music Director Jacques Lacombe conducts.
The Seattle Times has praised Cirque de la Symphonie's "every breathtaking feat of strength and agility," writing that "a symphony orchestra has a lot in common with circus acts. Both involve developing and maintaining suspense. Both involve spectacle and modulating emotional pitch, capturing the rapt attention of an audience willing to surrender to every nuance or peak … The clearest sign that 'Cirque' was working was in the way kids in the audience were just as absorbed by the stand-alone musical portions of the program as they were by the ones featuring the performers."
In addition to the show and prior to, patrons can join in on a sing-a-long in the upstairs lobby of the State Theatre beginning at 2pm.
THE ARTISTS
Jacques Lacombe, conductor
A remarkable conductor whose artistic integrity and rapport with orchestras have propelled him to international stature, Jacques Lacombe has been Music Director of the New Jersey Symphony Orchestra since 2010 and Orchestre Symphonique de Trois-Rivières since 2006. He was previously Principal Guest Conductor of the Orchestre Symphonique de Montréal and Music Director of orchestra and opera with the Philharmonie de Lorraine.
Lacombe has garnered critical praise for his creative programming and leadership of the NJSO. The Orchestra's acclaimed "Man & Nature" Winter Festivals have featured innovative programs, including a realization of Scriabin's "color organ." He created the New Jersey Roots Project, presenting music by New Jersey composers. The New York Times wrote, "It was an honor to be in the hall" for Lacombe and the NJSO's performance at the 2012 Spring for Music Festival at Carnegie Hall.
This season, Lacombe's NJSO highlights include the world premieres of an NJSO commission by Geri Allen and a new work by Lowell Liebermann and the U.S. premiere of Tan Dun's Earth Concerto. He conducts the Montréal, Québec and Columbus Symphony Orchestras, returns to the Opéra de Monte-Carlo for La Favorite with tenor Juan Diego Florez and leads Chausson's Le roi Arthus in Strasbourg.
He has appeared with the Cincinnati, Toronto, Vancouver and New Zealand Symphony Orchestras and National Arts Centre Orchestra of Ottawa. He is a frequent guest conductor in France, Spain and Australia and has led tours and recordings with the National Youth Orchestra of Canada.
Opera highlights include all-star productions of La bohème and Tosca at the Royal Opera House Covent Garden, numerous productions with the Deutsche Oper Berlin and engagements with the Metropolitan Opera and opera houses in Marseille and Turin. He has recorded for the CPO and Analekta labels; he has recorded Orff's Carmina Burana and Janáček's Suite from The Cunning Little Vixen with the NJSO. His performances have been broadcast on PBS, the CBC, Mezzo TV and Arte TV, among others.
Born in Cap-de-la-Madeleine, Québec, Lacombe attended the Conservatoire de Musique de Montréal and Hochschule für Musik in Vienna. He was named a Chevalier de l'Ordre national du Québec in 2012 and a Member of the Order of Canada in 2013—among the highest civilian honors in the country.
CIRQUE DE LA SYMPHONIE
Cirque de la Symphonie brings the magic of cirque to the music hall, showcasing many of the best cirque artists in the world. The performers include world record holders, gold-medal winners of international competitions, Olympians and some of the most original talent ever seen.
Alexander Streltsov is a Russian aerial artist who started working with famed cirque choreographer Pavel Brun and producer Valentin Gneushev at age 12, performing on Broadway at the Gershwin Theatre.
Christine Van Loo performed as a professional aerialist and acrobat in the 2002 Winter Olympics and at two Grammy Awards, the American Music Awards (with Aerosmith) and the Miss Universe pageant.
The dynamic and exciting balancing act Duo Design—former Polish national hand-balancing champions Jaroslaw Marciniak and Mariusz Pietrzak—has thrilled audiences at several NBA halftimes, Cirque du Soleil, Circus Circus and the national tour of Cirque Ingenieux.
Vladimir Tsarkov provides a spellbinding performance combining mime and juggling feats. A graduate of Russia's prestigious State College of Circus and Theater Arts, he won the gold medal at France's Cirque de Demain International Festival.
Elena Tsarkova, the "Lady in White," is a graduate of the famed Moscow Circus School and first-place winner of the prestigious National Russian Circus Festival.
Vitalii Buza competed as an elite gymnast with the Russian national team and, at age 16, joined the Moscow State Circus as a professional acrobat. He had a role in the Walt Disney movie Enchanted.
Irina Burdetsky grew up in a circus family in Moscow and was trained by some of the greatest names in acrobatics, gymnastics and hoops. She traveled as one of the youngest performers with the Moscow Circus.
NEW JERSEY SYMPHONY ORCHESTRA
Named "a vital, artistically significant musical organization" by The Wall Street Journal, the New Jersey Symphony Orchestra embodies that vitality through its statewide presence and critically acclaimed performances, education partnerships and unparalleled access to music and the Orchestra's superb musicians.
Under the bold leadership of Music Director Jacques Lacombe, the NJSO presents classical, pops and family programs, as well as outdoor summer concerts and special events. Embracing its legacy as a statewide orchestra, the NJSO is the resident orchestra of the New Jersey Performing Arts Center in Newark and regularly performs at the State Theatre in New Brunswick, Count Basie Theatre in Red Bank, Richardson Auditorium in Princeton, Mayo Performing Arts Center in Morristown and bergenPAC in Englewood. Partnerships with New Jersey arts organizations, universities and civic organizations remain a key element of the Orchestra's statewide identity.
In addition to its lauded artistic programming, the NJSO presents a suite of education and community engagement programs that promote meaningful, lifelong engagement with live music. Programs include the three-ensemble Greater Newark Youth Orchestras, school-time Concerts for Young People performances and multiple initiatives that provide and promote in-school instrumental instruction. The NJSO's Resources for Education and Community Harmony (REACH) chamber music program annually brings original programs—designed and performed by NJSO musicians—to a variety of settings, reaching as many as 17,000 people in nearly all of New Jersey's 21 counties.
For tickets or more information, call the State Theatre ticket office at 732-246-SHOW (7469), or visit us online at http://www.StateTheatreNJ.org. The State Theatre ticket office, located at 15 Livingston Ave, New Brunswick NJ, is open Monday, Tuesday, Thursday, Friday, 10 a.m. to 6 p.m.; Wednesday 11 a.m. to 7 p.m.; Saturday, 1 p.m. to 5 p.m.; and at least three hours prior to curtain on performance dates, unless otherwise specified. For information on group outings and discounts, call 732-247-7200, ext. 517. Some additional ticket and transaction fees may apply.
State Theatre, a premier nonprofit venue for the performing arts and entertainment. The theater exists to enrich people's lives, contribute to a vital urban environment, and build future audiences by presenting the finest performing artists and entertainers and fostering lifetime appreciation for the performing arts through education. The State Theatre's programs are made possible, in part, by funding from the New Jersey State Council on the Arts/Department of State, a Partner Agency of the National Endowment for the Arts, and contributions from numerous corporations, foundations, and individuals. The Heldrich is the official hotel of the State Theatre. Magic 98.3 is the official radio station of the State Theatre. The Star-Ledger is the official newspaper of the State Theatre. United is the official airline of the State Theatre.
STATE THEATRE
15 Livingston Ave
New Brunswick, NJ 08901
Ticket Office - 732-246-SHOW (7469)
Online - http://www.StateTheatreNJ.org
PHOTOS AND INTERVIEWS FURNISHED UPON REQUEST
Please contact Kelly Blithe at
732-247-7200, ext. 542 or by email at kblithe(at)StateTheatreNJ(dot)org.
Up-to-the-minute information on events and State Theatre news, online at http://www.StateTheatreNJ.org.
# # #