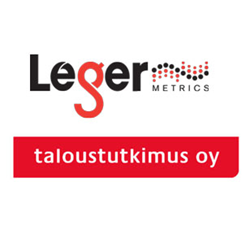 Partnering with Leger Metrics allows us to differentiate ourselves in the market while significantly improving our value to our clients
(PRWEB) April 30, 2014
Leger Metrics, a leading provider of Customer Experience Management and Voice of the Customer solutions, is pleased to announce today that it has signed a partnership with Taloustutkimus Oy a leading marketing research company headquartered in Helsinki, Finland. This latest partnership adds to Leger Metrics' growing network of global partners. Together, the companies will collaborate on developing the Northern European and Baltic markets thus enabling retail and consumer brands to take advantage of Leger Metrics' powerful tools to measure and monitor the customer experience.
"Customer surveys are by far the strongest area of research for Taloustutkimus and a Voice of the Customer technology solution is an ideal complement to our service portfolio," says Pasi Huovinen, Research Director, at Taloustutkimus. "Combining our expertise in customer experience with Leger Metrics' VoC data collection and reporting technology is a winning combination. Partnering with Leger Metrics allows us to differentiate ourselves in the market while significantly improving our value to our clients," continues Huovinen.
"We strongly believe that the market opportunity for superior, real-time customer feedback tools is ripe in the Northern European and Baltic markets," says Richard Pridham, President and CEO of Leger Metrics. "Taloustutkimus possesses a tremendous amount of depth and expertise when it comes to customer surveys not to mention an intimate knowledge of the consumer market space. Together we will work towards building a leadership position in these markets," concludes Pridham.
About Taloustutkimus
Taloustutkimus is an independent full service market research company operating in Finland, Russia and all Baltic countries. Taloustutkimus was established in 1971 and it is currently the second largest full-service market research company in Finland with annual revenues exceeding €12.5 million. Taloustutkimus employs 90 full time employees and a nationwide interviewer network with nearly 300. Taloustutkimus carries out approximately 3,000 different market research and opinion surveys each year. Its client base includes over 1,000 international organizations from both the private and public sector and includes leading retail and consumer brands such as Lidl, Nokian Tires, S Group, Danone and Bayer. It also has a broad partner network, which enables it to carry out market research projects almost in any part of the world. For more information, visit http://www.taloustutkimus.fi.
About Leger Metrics
Leger Metrics Inc. is a leading North American supplier of Voice of the Customer (VoC) and Customer Experience Management (CEM) solutions. Leger Metrics provides cloud-based customer feedback management, real-time reporting and customer recovery solutions. Clients range from multi-location retail, restaurant, automotive, financial services and to healthcare. Leger Metrics solutions enable consumer brands to foster deeper engagement, and improve customer satisfaction and loyalty through continuous customer feedback and real-time actionable insights. Leger Metrics is a division of Leger, The Research Intelligence Group, the largest Canadian-owned market research firm with offices throughout Canada, in the United States and in Zurich, Switzerland. For more information: http://www.legermetrics.com.
Contact information:
Richard Pridham
President & CEO
Leger Metrics Inc.
T. (877) 904-2542
rpridham(at)legermetrics(dot)com
Pasi Huovinen
Research Director
T. +358 10 75 85 293
pasi.huovinen(at)taloustutkimus(dot)fi