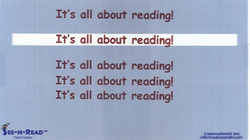 See-N-Read®, an innovative reading tool for struggling readers, has been awarded a U.S. Patent.
(PRWEB) May 01, 2014
See-N-Read® Reading Tools feature a clear reading window (ReadBar™) that helps readers' eyes to focus on the appropriate line of text. The transparent, shaded, non-glare areas that surround the ReadBar™ suppress distractions on the page without hiding context. The shaded areas of the reading tool are transparent for two reasons:
1.) The shaded area below the ReadBar™ allows readers to use peripheral vision (another part of the brain's 'locator' mechanism) to see the next line coming and to smoothly transition to it without stopping (i.e., sweeping) and to group words (chunking), thereby preserving patterns and meaning.
2.) The shaded area above the ReadBar™ enables users to re-read text while keeping their place on the page (attempting to re-read frequently causes struggling readers to lose their place) in addition to controlling upward eye movement.
Research in the field of ophthalmology shows that the unique color of See-N-Read's transparent shaded areas to be the least distracting for the most number of people, thus improving focus.
See-N-Read® Reading Tools are endorsed by neuropsychologists, psychiatrists, psychologists, reading specialists and classroom teachers.