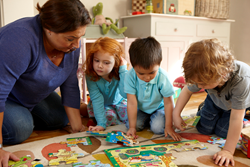 From crawling, talking, dropping off at school, birthdays and their first injections- childhood vaccinations are a rite of passage for most of us, but for some that is not the case.
Washington, D.C. (PRWEB) May 01, 2014
Today, the United Nations Foundation announced Jo Frost, best-selling author and global parenting expert, best known for her long running international television series- Supernanny, Jo Frost; Family Matters, Family SOS and Extreme Parental Guidance- will join the Shot@Life campaign to advocate on behalf of global childhood vaccines.
"My work in the parental arena has given me the smiles, the laughs, and the excitement as well as the privilege to be a part of so many firsts in a child's life," said Jo Frost. "From crawling, talking, dropping off at school, birthdays and their first injections- childhood vaccinations are a rite of passage for most of us, but for some that is not the case. As millions of children globally die every year from a vaccine preventable disease. With just a small change we can make a huge impact."
Frost recently released her seventh book, "Jo Frost's Toddler Rules: Your 5-Step Guide to Shaping Proper Behavior" to help parents identify, understand and tame tantrums as well as prevent the challenges parents are faced with every day in a toddlers life. As a Global Advocate for Shot@Life, Frost will engage with key influencers in public policy, support fundraising efforts and raise awareness about the need for life-saving childhood vaccines in developing countries. Frost began her work by recently rallying Shot@Life volunteers via video message at the annual Shot@Life Champion Summit in Washington, D.C.
"We are so thrilled to have Jo Frost join the United Nations Foundation and our Shot@Life team," said Devi Thomas, Director of the Shot@Life campaign. "She has a natural gift for connecting with children and parents. We look forward to many events and opportunities with Jo to raise awareness for this issue and help children around the globe gain access to the life-saving vaccines they so desperately need."
Every 20 seconds around the world a child dies from a vaccine preventable disease like measles or pneumonia. The UN Foundation's Shot@Life campaign helps further the work of the United Nations to expand access to these life-saving vaccines. To learn more about the Shot@Life campaign visit http://www.shotatlife.org.
###
About Shot@Life
Shot@Life, a campaign of the United Nations Foundation, educates, connects and empowers Americans to help protect children in developing countries from vaccine-preventable diseases. By joining this movement, you can help save a child's life every 20 seconds by learning about, advocating for and donating vaccines to children who need them most. Go to ShotAtLife.org to learn more.
About the United Nations Foundation
The United Nations Foundation, a public charity, was created in 1998 with entrepreneur and philanthropist Ted Turner's historic $1 billion gift to support UN causes and activities. The UN Foundation builds and implements public/private partnerships to address the world's most pressing problems, and works to broaden support for the UN through advocacy and public outreach. Through campaigns and partnerships, the organization connects people, ideas, and resources to help the UN solve global problems. The campaigns reduce child mortality, empower women and girls, create a new energy future, secure peace and human rights, and promote technology innovation to improve health outcomes. These solutions are helping the UN advance the eight global targets known as the Millennium Development Goals (MDGs). For more information, visit http://www.unfoundation.org.