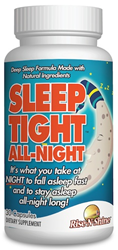 Sleep Tight All Night is a safe and all natural way to help restore your sleep cycle.
Sparta, NJ (PRWEB) April 30, 2014
May 6th is National No Diet Day and in honor of becoming healthy without taking on a fad diet, Rise-N-Shine LLC is offering sleep tips to get your health back on track.
It has been well established that a disrupted sleep pattern can hold a bearing on a person's health, particularly holding onto unhealthy weight. New studies have shown astonishing findings that people who receive an adequate amount of sleep each night and wake up at an early hour each morning are more likely to have a lower BMI as well as a lower risk of stroke and heart disease.
Aside from medical conditions such as sleep apnea, one cause of lack of sleep can low levels of Melatonin, the sleep hormone, within the body. Environmental factors such as the amount of time spent on devices with blue light and physical factors such as age can contribute to a diminishing level of this important hormone. Replenishing this sleep hormone can help level off sleep cycles, resulting in better overall health.
Also, while establishing a new sleep cycle, be sure to go to bed at the same time each night and allow yourself to wake up naturally each morning. Make sure to avoid caffeine and heavy meals before bedtime as well sticking to a regular night time routine that may consist of meditation or yoga.
In honor of National No Diet Day and throwing the diet fads out the window Rise-N-Shine LLC is offering a discount on all sleep products from now until May 8th using the coupon code MyGift.