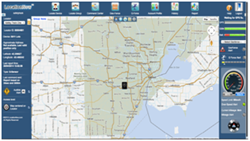 "The ST-911 Lola gives us the ability to track elderly parent, young or autistic children"
Detrot, MI (PRWEB) May 08, 2014
Safety Track, servicing North America for over 12 years, is revolutionizing the personal tracking industry with the newest addition to its tracking line-up: the ST-911 Lola.
"I have been in the vehicle tracking business for many years, but a few years back I was asked by a couple if instead of tracking a vehicle of their mother, who was in a nursing home, if it was possible to actually track her. I then began the search of just that, literally a personal tracking device; something that was light weight and could be easily be worn around the neck or even in someone's back pocket. I then thought, 'why reach out to families that have small children that walk to school' the possibilities are endless for what this small peace of mind can give," said Jeff Stoker, VP of Operations, Safety Track.
Safety Track has been a nation-wide GPS fleet provider for over a decade, and is now diving head first into the personal tracking world. The ST-911 Lola is a small yet light weight GPS location device, designed to be easily carried from little children all the way to the elderly. The Lola not only has GPS location capabilities but also comes equipped with GeoFencing and two-way communication. GeoFencing provides "boundaries" that are set by the tracker of the Lola, which then can be monitored via cell phone or computer. With features like text alerts and two-way communication, your loved ones will never feel alone or lost again, with the simple press of the main button, you're only one call away. "The main reason we developed LOLA is to empower people to promote safety within their families. The best way to correct a problem is to see it as it is happening," continues Stoker.
Richetta from San Francisco, CA needed the ease of mind when it came to their mother. "A few years back, our mother started showing early signs of dementia. She was still herself and loved going for walks around the neighborhood but sometimes got lost. With this reoccurring problem we needed a fast and simple solution. Safety Track's ST-911 Lola gave us the peace of mind we needed, knowing that if she goes outside our predefined area, we get notified instantly with a text. It was light and east for mom to carry or wear whenever she went out. Now mom has her freedom and we have our peace of mind."
For product pricing, as well as leasing options, please contact Nick Thacker at 888-286-9829. Safety Track is an international GPS provider, so no matter where you go, you'll always be covered.
About Safety Track LLC:
Safety Track, a woman and family owned business, was established in late 2002 in a local family basement. Throughout its growth, now reaching international status, Safety Track is committed to keeping that 'mom and pop' feel by making customers their top priority. Safety Track helps businesses and fleet owners alike maintain control over their vehicles; whether it's with in vehicle cameras, GPS or a combination of both. While striving to make running a fleet easier, Safety Track's top priority it to promote safe driving habits, not only for fleet drivers, but for drivers everywhere.