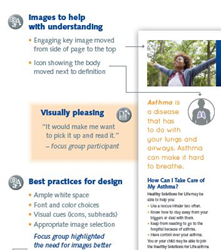 Health literacy is about more than words – it's about understanding and action.
Irvine, CA (PRWEB) May 06, 2014
The rollout of the Affordable Care Act has spurred a greater urgency and focus on health literacy. States and program sponsors that have been challenged to make complex health information easier for members to understand and inspire change can find best practice solutions at the 13th Annual IHA Health Literacy Conference that takes place here this week. Nurtur, the health and wellness company serving employers, plan sponsors, health plans and government programs, has been selected to present two case studies in the Poster Session to be held on Thursday, May 8.
The ability for individuals of all ages and income levels to obtain, communicate, process and understand basic health information and services is essential to achieving the goals of healthcare reform. The poster presentations from Nurtur provide best practice examples for plan sponsors to improve the health literacy of educational materials for all consumers and make health literacy an organizational priority.
"Health literacy extends beyond basic reading levels. Font type and size, design and image choices each contribute to ensure health information meets the needs of the audience you are trying to reach," said Sydney Webb, Ph.D., Director of Member Communications & Engagement at Nurtur. "Readability measures alone don't consider layout or graphic elements that aid comprehension. Health literacy is about more than words – it's about understanding and action."
The IHA Health Literacy event is a hands-on, continuing education conference that brings together healthcare and communications professionals from across the country. The focus of this year's conference is the impact of the Affordable Care Act and how health literacy affects enrollment and related challenges.
Nurtur Poster Presentations
Taking Care of Your Chronic Condition: Improving Health Promotion and Education Materials for Medicaid and Medicare Members examines the development of award-winning health promotion and education materials for Medicaid and Medicare members with diagnosed chronic conditions. From initial concept and design to user testing and results, the poster explores implications for policy, delivery and practice and offers up some best practices. "There is no substitution for consumer feedback," said Erin R. King, Wellness Communications Writer. "User testing doesn't need to be complicated or expensive. And, when coupled with the use of a robust checklist and content creation guide, user input is essential to implementing health literacy efforts."
A Year of Health Literacy: One Organization Makes Awareness, Education and Application a Priority examines how the Nurtur Member Communications team made health literacy an organizational priority by creating reference tools, honing best practice techniques, offering continuing education and providing outreach communications. "We have made significant strides by championing health literacy as a means of better supporting our members," said Webb. "As a result, health literacy has become a necessity at Nurtur. Our ultimate goal as an organization is to work with members to ensure they not only understand difficult health information, but can act on the information by making small behavior changes that lead to big results."
About Nurtur: Nurtur is the behavior change company dedicated to helping individuals improve their health and wellbeing. The company offers wellness programs and health coaching to educate, enable and motivate people at all life stages address the life issues that get in the way of health as well as the health issues that complicate living. Nurtur life and health management programs include wellness, disease management (including Back Pain, Depression, Diabetes, Heart Disease and Respiratory Disease), episodic/catastrophic care management, work-life resource and referral, employee assistance and professional training. The company provides services to multiple market segments including employers, unions, health plans, and state and government agencies.