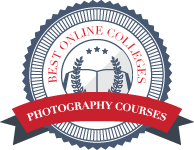 (PRWEB) April 30, 2014
BestOnlineColleges.org is a pioneer in online educational resources for students. A remarkable shift has occurred in America's higher education system over the last few years. While online education was once considered a niche industry, top colleges and universities are now offering online course options as a part of their curricula. This trend has coincided with the evolution of the student profile: tech-savvy, profoundly skilled at multi-tasking, and looking to combine an education with a meaningful life experience. By analyzing educational data with surveys and academic resources, we evaluate and rank the best places in the U.S. for online degree programs of all subjects.
The combination of the recent social media explosion and advances in digital photography has completely revolutionized the ways in which people engage with photography. While anyone can take a picture using a smartphone, only trained professionals can capture those images that make your jaw drop as well as making a lucrative career out of it. With growth rates expected to grow 4% in the coming years, professional photography can look forward to freelance opportunities from companies in fields ranging from fashion to journalism to education
Online photography courses give people who want to make a career out of photography the option of perfecting their craft on their own time as well as developing their portfolio to showcase their talent for potential employers. For this reason, BestOnlineColleges.org has compiled and analyzed data from the National Center for Education Statistics (NCES) in order to create a thorough list of the 2014 Best Schools Offering Online Photography Courses and Degree Programs. The list integrates detailed insight into the enrollment, retention, and graduation rates of each program in addition to special consideration into the breadth its specializations. There are 8 schools on this year's list.
The list of the "Best Schools Offering Online Photography Courses and Degree Programs" can be found at http://www.bestonlinecolleges.org/best-schools-offering-online-photography-courses-and-degree-programs/. The schools featured are as follows:
Academy of Art University
Arizona State University-Tempe
New York Institute of Photography
Northern Oklahoma College
Oklahoma School of Photography
Savannah College of Art and Design
South University-The Art Institute of Fort Worth
The Art Institute of Pittsburgh-Online Division